Poseidon WCL-03 CPU Water Cooler - Page 3 0f 3

Testing:

For comparison purposes I am going to test the Poseidon WCL-03 against the stock AMD heatsink, and the Thermaltake Extreme Volcano 12 heatsink. Testing head-to-head with these two heatsinks will provide a decent point of reference for analyzing the performance capabilities as compared to a known wimpy cooler (the stock AMD device), and one with quite a bit more muscle (the Extreme Volcano 12). The stock AMD cooler is all aluminum with a 60mm fan, while the Thermaltake Extreme Volcano 12 is a monster of solid copper with a 3-bladed, high speed 80mm attached.

For the "Idle Temperature" results, the CPU was allowed to run for a minimum of 1 hour with no applications in use. For the "Load Temperature" results, the CPU was allowed to run for a minimum of 1 hour with Folding@Home launched. Folding@Home provide 100% CPU utilization, which in turn generates more heat for the heatsinks to dissipate.

Each heatsink was prepared with a razor thin coating of the generic, white thermal paste provided with the WCL-03 and installed into the system with the case side panel removed (so as not to create any potential interference with the airflow). For reference, I was able to maintain a room temperature of 24-25 degrees Celsius for all tests. See chart below for complete results of the first round of testing:



The first thing you might notice is that all of the temperatures seem a bit high. Using either the BIOS or Motherboard Monitor 5 to check temperatures, the Gigabyte K7 Triton nForce2 Ultra 400 reports temperatures much higher than I was used to seeing on the same AMD XP 2800+ while used on previous motherboards. Advice from the official Gigabyte forum suggests that this board is right, and that all others report numbers that are too low... Whatever! Regardless, the results shown above detail that the Poseidon WCL-03 easily provides temperatures beating the stock AMD cooler, although it can't quite compete with the Thermaltake Extreme Volcano 12. Given the fact that the WCL-03 produces just about zero noise, it is an excellent improvement over the whiny stock cooler, and just slightly warmer than the thunderous Extreme Volcano 12.

After the basic testing was complete I set out to see if different radiator fan configurations could drop the temperatures even lower. The same testing methodology was used as above, and the 1400 RPM fan was now replaced with the following 3 fan arrangements; (1) 5000 RPM fan drawing air through the radiator, (1) 2400 RPM fan drawing air through the radiator, (2) 1400 RPM fans in a push/pull arrangement sandwiching the radiator.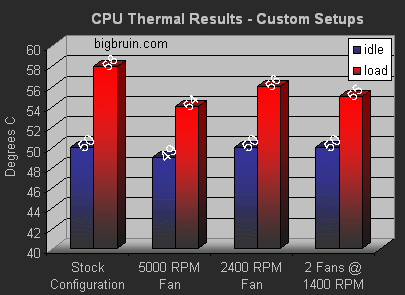 As you can see in the graph above, more air does lower the temperatures with the processor at full load. The 5000 RPM fan dropped the temperature the most, but the noise wasn't worth the few degrees saved. The other two configurations provided minor improvements over the stock configuration and were still moderately quiet.

Overall, the testing shows that the Poseidon WCL-03's thermal results can compete well with basic air cooling, but the near silence it offers can't be touched by air coolers.

Conclusion:

The 3RSystem Poseidon WCL-03 is an intriguing product. The thermal results won't amaze, but the silence accompanying the performance is quite impressive. Having seen numerous air and water coolers in action over the years, I would have to say this is the quietest to date! The WCL-03 temperatures match up nicely with air cooling, and addressing a few issues in the design could make the device a solid performer.

In addition to the previously mentioned WCL-04 and WCL-05 on the horizon, a pop up window on the 3RSystem site identified variations of the WCL-03 coming soon that included interesting 'upgrades' such as a copper core on the water block and 120mm fan on the radiator. The low noise performance has been established, and the addition of these two features can only help the thermal performance be more competitive! Although PCUSA is unsure of when these other products will be released, or if they'll be available through their distribution channel, keep your eye out for them! These are the kinds of things that would address the few perceived issues.

The Poseidon WCL-03 has a suggested retail price of $125 US, and can currently be found at Frozen CPU for just that amount. According to PCUSA they should be showing up at Xoxide and Newegg any day now! The price is less than a typical water cooling kit, but much higher than a high performance air cooler. The average thermal performance makes the price hard to justify for overclockers, but for those seeking silence and an overly simple installation, it may be worth it. Don't forget the compatibility with small form factor systems, making it about the only self contained, water cooling choice for owners of mini PCs.

For its innovative design, simplification of water cooling, and near silence, I rate the Poseidon WCL-03 CPU Water Cooler 4 out of 5 stars, "Recommended".

Final Rating (4 out of 5 stars):





Pros:

• Nearly silent... quietest cooler I have used
• Pre-assembled and pre-filled makes for a simple installation
• Tool-less fan mounts on radiator allow for various configurations and fast changes
• Compact design allows for small form factor systems to have self-contained water cooling

Cons:

• Thermal results are average (not recommended for overclocking)
• Water block base might benefit from a good lapping
• Tubing length and radiator configuration won't fit well in all cases

Special thanks to PCUSA Corporation for providing the 3RSystem Poseidon WCL-03 to BigBruin.Com for review!

Please drop by the BigBruin.Com forum and feel free to discuss this review!

Page 1 | Page 2 | Page 3 | Home | Forum | Review Index