Poseidon WCL-03 CPU Water Cooler - Page 1 0f 3

Water cooling for computer systems is no longer for the extreme enthusiast. The pricing and availability of components and full kits has made it far more accessible for the user seeking improved performance and/or minimal noise. In addition, entry level kits are now available that make adding a basic water cooling setup to a computer about as easy as replacing the typical heatsink fan combination. That is where the 3RSystem WCL-03 CPU water cooler comes in. The WCL-03 is a self contained, fully assembled pump, reservoir, radiator, and water block designed for installation on K7 and P4 class processors. A novel idea that could make for an interesting first foray into water cooling for some, and if executed properly could make for some serious competition with air cooling.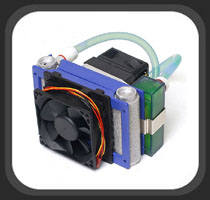 The 3RSystem WCL-03 was supplied to BigBruin.Com for review by PCUSA Corporation, two names (or maybe three) which may not be all that familiar to computer enthusiasts. The following paragraphs provide a brief introduction to the supplier and manufacturer of this review sample...

PCUSA Corporation is a US distributor based in City of Industry, California and imports the 3RSystem Poseidon WCL-03 from Korea. Their product line consists mainly of networking devices, digital cameras, and other computer devices, with the WCL-03 CPU water cooler from 3RSystem being a recent addition.

3RSystem was founded in the year 2000 and makes their home in Seoul, South Korea. Their product line includes power supplies, cases, and an expanding line of water cooling kits. The model being reviewed is the model WCL-03, and browsing the 3RSystem site shows that models WCL-04 and WCL-05 are coming soon, and one would assume offer some kind of improvements over the current offering.

The WCL-03 is sold in the packaging shown below. The back of the box is actually of interest as it shows real world data from an installation on a P4 processor in a small form factor (SFF) case. The data presented was far more scientific than most marketing propaganda I have seen, and makes a strong case for the noise and temperature reductions achieved on this system. In addition, the ability to water cool a SFF system with a self contained kit is pretty cool to me.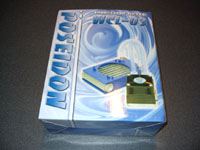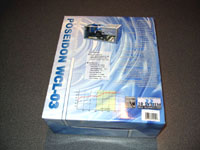 Before taking a look at the actual product, here is some of the published data regarding the WCL-03...

Product Specifications (from the 3RSystem website):

• Pump Type: Magnetic Pump
• Pump Head: 400mm (approximate)
• Pump Flux: 500ml/min
• Radiator Dimension: 134mm(W) X 90mm(D) X 22mm(H)
• Radiator Liquid Volume Capacity: 60cc
• Radiator Material: Aluminum
• Radiator Weight: 134g
• Water Tank Dimension: 90mm(W) X 25mm(D) X 30mm(H)
• Water Tank Liquid Volume Capacity: 35cc
• Water Block Dimension: 79mm(W) X 63mm(D) X 8mm(H)
• Water Block Material: Aluminum
• Water Block Weight: 82g
• Product Gross Weight: 1.2kg (including box)

What you don't see in the list of specifications anywhere on the 3RSystem or PCUSA Corp sites is an actual rating for which K7 and P4 processors this is capable of cooling. They reference testing of a P4 3.0C, but otherwise you do not know if there is a maximum speed that is compatible with the WCL-03. A P4 2.8E puts out lots of heat, but I see nothing to say it isn't compatible. PCUSA Corp only says "It fits a wide range of AMD and Intel CPU's".

Contents (from the 3RSystem website):

• Water Block, Pump, Radiator, Water Tank Set
• Fan Bracket
• Low-noise 80mm Cooling Fan
• AMD / Intel P4 CPU Clips
• Sticker
• Fan Mounting Screws
• Grease for Enhancing Thermal Conduction between CPU Core and Water Block
• Pad for Heat Isolation
• User's Manual

And with the listing of the contents, lets take a look at them...

The below left image shows the Poseidon WCL-03 cooling system fully assembled, exactly the way it ships. Translucent blue tubing connects the pre-filled reservoir to the aluminum radiator with 80mm fan, as well as the processor water block / pump combination. Assembling a water cooling kit can be the most time consuming portion of an installation, and this step has completely been eliminated with the WCL-03. Another feature that may not jump out at you immediately is that all metallic water contacting parts are aluminum, which will help reduce corrosion that may be experienced in systems featuring various metals in one circuit.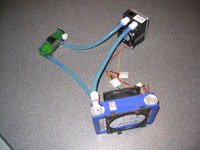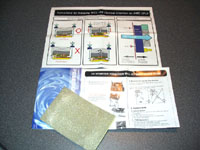 The above right image shows the various documentation that accompanies the WCL-03, as well as a sheet of adhesive-backed foam insulation. The documentation includes two quick reference sheets as well as a more substantial manual that should prove useful in getting everything installed properly. The English instructions aren't particularly well written (or perhaps translated), but with numerous pictures and diagrams, someone familiar with the inner workings of a computer shouldn't have a hard time.

The two images below show all of the hardware included with the Poseidon WCL-03. The below left image shows it exactly as it was removed from a small box within the kit. You have four large brackets (2 for use on an AMD K7 processor and 2 for use with an Intel P4 processor) that will mount the water block via the motherboard's processor socket, and a bag containing; springs, washers, wing nuts, fan screws, plastic clips, plastic caps, and a case badge sticker. The below right image shows the brackets assembled for use on either style processor. The plastic clip is slid onto the bracket's threaded shaft, followed by a spring, a washer, a wing nut, and once fully assembled a plastic cap can be placed on the end of the threads to finish it off. The assembly of these brackets is one of the areas that could use some clarification in the written instructions, but the pictures (and just a little common sense) helped get the job done.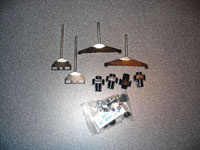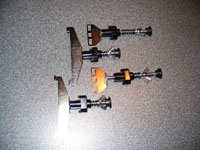 Please read on to the next page for more... Next

Page 1 | Page 2 | Page 3 | Home | Forum | Review Index | Page Views: