Logisys Armor Gaming Case - Page 1 0f 3

Computer cases come in every possible size and design that can fit a standard ATX motherboard. Lately, in the computer industry there has been a growing trend to release "pre-mod" cases. Usually such cases feature at minimum a window and usually additional cooling features. From there, manufacturers add other small features to lure users. Xoxide has supplied just such a case for this review. This is not just another generic beige case.. The Logisys Armor Gaming Case is one that LAN party goers will recognize and appreciate.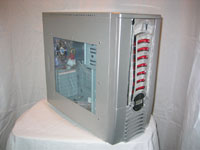 Product Specifications & Features:

Before jumping right into the review here is a list of the specifications. As you can see the Logisys case comes with a few unique features...

Specifications:

• Dimensions: 7.9" x 17.3" x 19.8"
• Blue LCD Thermal Display in front
• Max motherboard size: 12" x 9.5"
• 4 open 5.25" drive bays
• 2 open 3.5" drive bays
• 5 hidden 3.5" drive bays
• Total of 10 drive bays
• Built in 2 front USB 2.0 + Audio Output
• Back mounted 120mm clear fan and 80mm side clear fan
• UV pipe vent which exhausts hot air away from CPU
• UV interactive Acrylic side window
• Special designed Shutter Style Air exit (for better/silent performance)
• Tool less thumb screws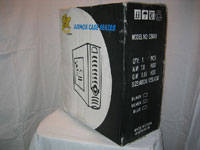 External Case Overview - Front:

We start with a view of the case from the front. As you can see all bays are accessible via a plastic front cover that swivels approximately 160 degrees on its hinges. This cover partially muffles case noise buts its primary purpose serves as a "drive stealthing" feature. It's a nice idea, just don't let any software try to open your cd-rom with this completely closed, you'll probably burn out the gears in your cd-rom.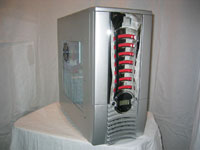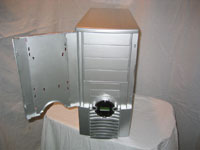 This case has two features of particular interest on the front. The most notable is the large LCD temperature display. It allows users to monitor any piece of hardware or ambient case temperature using a small thermal diode. Pictured below are the LCD readouts in both Fahrenheit and Centigrade measuring ambient case temperatures. The photo of the white plastic box with the blue push-button is found on the inside of the front panel and allows the user to toggle between Fahrenheit and centigrade readings on the LCD display. The instructions warn you should turn off the computer while making such an adjustment.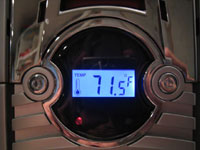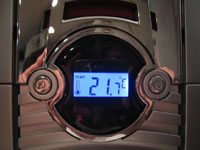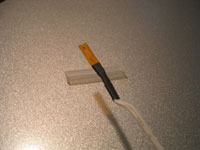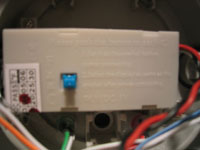 The other feature is a hidden side access panel. Located on the front plastic bezel, it allows users to conveniently connect peripherals without crawling to the back of their machine. Included is a firewire port, 2 usb ports, and 2 audio jacks (microphone and headphones).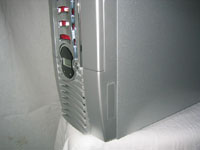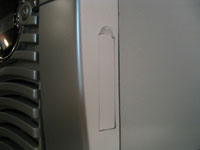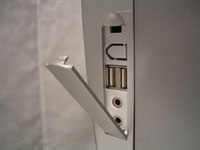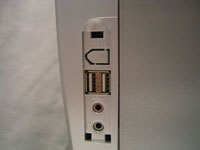 Please read on to the next page for more... Next

Page 1 | Page 2 | Page 3 | Home | Forum | Review Index | Page Views: