FoxConn 875A02-6EKRS 875P Motherboard - Page 1 of 6

Up for review today is the FoxConn 875 Series (875A02-6EKRS) motherboard based on the Intel 875P+ICH5R Canterwood chipset. This ATX form factor board supports Intel Pentium 4 and Celeron Socket 478 (Willamette/Northwood/Prescott) processors, up to 4GB of dual channel PC3200 DDR memory, and includes a host of attractive onboard features.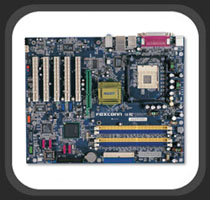 FoxConn may not be a household name, but it has been around for some time (see list of milestomes below). Chances are, you've already used their products and didn't even know it! FoxConn is the registered trade name of Hon Hai Precision Industry Co., Ltd., a global leader in providing mechanical and electromechanical solutions to the communications, consumer, and computer industries. The world's largest manufacturer of PC connectors, Hon Hai is also one of the world's leading manufacturers of cable assemblies, desktop PC chassis, and server enclosures.

Company milestones:

• 1999 Established SMT production facilities Houston, United States, FoxConn eMS Inc
• 1999 Established production facilities in Ireland and the United States
• 1998 Established production facilities in Scotland and the United Kingdom
• 1996 Began production of PC enclosure
• 1994 Established R&D centers in the United States and Japan
• 1993 Shenzhen and Kunshan factories in mainland China commenced production
• 1991 Listed on Taiwan Stock Exchange
• 1983 Tu-cheng plant commenced operation
• 1981 Commenced production of connector products
• 1974 Company established to produce plastic products

Specifications (as taken from the FoxConn website):

• Processor: Intel® Pentium® 4, 478-pin, 533/800MHz FSB, Fully supports Intel "Prescott" processors, Intel Hyper-Threading Technology supported
• Chipset: Intel® 875P + ICH5R
• Memory: Dual channel, unbuffered, 2.5V DDR333/400 w/ or w/o ECC; (4) 184-pin DIMM sockets, max 4GB, Supports Intel Performance Acceleration Technology (PAT)
• Graphics: Discrete (non-integrated) - use expansion slot
• Expansion Slots: 1 x AGP 8X, 5 x PCI
• IDE: 2 x ATA/100 + 4 x SATA/150 (up to 2 x 2-drive RAID 0, 1 arrays)
• Audio: Integrated, 5.1 channel AC97, including front audio and S/PDIF headers (Realtek)
• LAN: Integrated Gigabit Ethernet (10/100/1000) controller (Realtek)
• IEEE-1394: Integrated (VIA), 1 x rear + 1 x front I/O header
• Rear Panel:
&nbsp&nbsp• 1 x PS/2 keyboard
&nbsp&nbsp• 1 x PS/2 mouse
&nbsp&nbsp• 1 x RJ45 (LAN)
&nbsp&nbsp• 4 x USB 2.0
&nbsp&nbsp• 1 x line-in/line-out/mic (audio)
&nbsp&nbsp• 1 x parallel (SPP/ECP/EPP)
&nbsp&nbsp• 2 x COM (16550-compatible UART)
&nbsp&nbsp• 1 x IEEE-1394
• Internal:
&nbsp&nbsp• 1 x floppy disk drive
&nbsp&nbsp• 2 x USB 2.0 headers (supports 4 ports)
&nbsp&nbsp• 1 x IEEE-1394 header
&nbsp&nbsp• Front audio header
• BIOS: 4Mb flash EEPROM w/ LAN boot, PnP, ACPI, WfM, DMI 2.0
• Features: Wake-on-LAN (WOL), suspend-to-RAM (STR), suspend-to-disk (STD), SuperUtilities - SuperBoot, SuperBIOS-Protect, SuperRecovery, SuperSpeed, SuperStep, SuperLogo, and SuperUpdate
• Accessories: Support CD, user manual, 1 x floppy drive cable, 1 x ATA/100 cable, 2 x SATA data cables, 1 x SATA power cable (supports 2 drives), rear I/O shield, RAID driver floppy disk
• Form Factor: ATX, 12.0" x 9.6" or less

This FoxConn 875 Series motherboard boasts many advanced features like, up to 4GB unbuffered ECC/non ECC PC3200/2700/2100 DDR memory, 800MHz FSB, USB 2.0, AGP 8x, Realtek GbE LAN, and AC'97 v2.2 6 Channel Audio... to name a few. Also on board are 4 S-ATA headers, 2 are controlled by the Silicon Image Sil3112A chip that provides RAID 0 (striping) and RAID 1 (mirroring), the other 2 are controlled by the ICH5R southbridge chip providing RAID 0. Of course, all 4 S-ATA headers can be used as separate channels.

The photo below left shows the box with many of the motherboards features printed on it. The photo on the right shows what comes in the box, the motherboard, motherboard manual , S-ATA RAID manual, drivers CD, 2 floppy RAID driver disks (1 for the Silicon Image RAID & 1 for the Intel ICH5R southbridge RAID), back I/O plate, 2 S-ATA DATA cables, 1 S-ATA power cable (supporting 2 drives), 1 floppy cable and 1 80 wire IDE ribbon cable.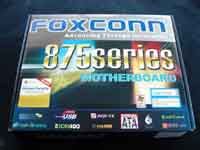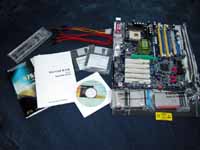 Please read on to the next page for more... Next

Page 1 | Page 2 | Page 3 | Page 4 | Page 5 | Page 6

Home | Forum | Review Index | Page Views: