Sunbeamtech 20 in 1 Superior Panel - Page 1 of 2

I love gadgets, especially when they are useful. Now I am not sure if the Sunbeamtech 20 in 1 Superior Panel falls into the category of a gadget, however it is definitely a very useful and handy item that is loaded with features. Sunbeamtech has managed to put just about everything short of the kitchen sink in the space of a 5.25" drive bay.



Sunbeamtech got its start in 2000 specializing in the development of cold cathode fluorescent lamps. These days their main focus is on cooling products, computer cases, and modding products, while expanding their product line and keeping a sharp eye on quality control. So let's take a look at the Superior 20 in 1 panel and see just what it is all about.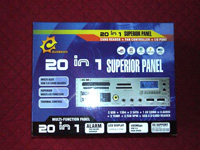 Packaging:

Our test unit arrived well packed with a retail box inside a shipping box. Upon opening the retail box you find the unit and all the cables well packed within a plastic container that protected all the goods, and was still easy to open. Also in the box were the instruction manual and a driver CD ROM.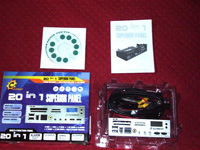 Sunbeamtech has included everything you will need to get your panel hooked up and running, including; all cables, mounting screws, labels, PCI pass through plate, jumpers, tie wraps, driver disk, and last but not least an instruction manual.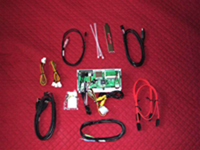 Features (taken from the Sunbeamtech website):

Card Reader Features:

1. Hi-Speed USB 2.0 (backwards compatible with all USB 1.1 ports)
2. All 4 memory-slots are active which enable user to transfer data between the different memory cards in the different slots
3. Supports CF type I/II, Micro drive, MS, MS PRO, MS DUO PRO, MS DUO, SD, MMC, SM, up to 480Mbits/sec transferring Speed
4. Plug & play and Hot Swapping
5. LED Indication for Power & Access
6. Supports Windows 98/98SE/2000/XP and Mac OS 9.x/Mac OS

Fan Controller Features:

1. LCD display for temperature & RPM speed infomation.
2. 2-channel Fan RPM control and 2 temperature monitor
3. Overheat alarm
4. Fan failure alarm
5. Input 12V±10%, output 4-12V±10%, (max output 10 Watt each channel)
6. Temperature unit setting for "°C" or "°F"
7. Support the M/B detection: external signal wire.

I/O Port Features:

1. USB 2.0 *2
2. IEEE 1394 *1
3. Audio (line-out, line-in, Mic)
4. Video Out *1
5. SATA *2

Specifications (taken from the Sunbeamtech website):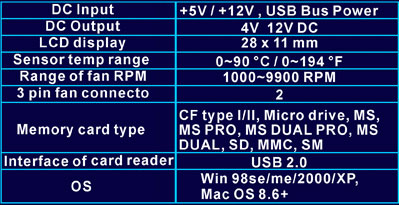 Please read on to the next page for more... Next

Page 1 | Page 2 | Home | Forum | Review Index | Page Views:
Bruin Tracks
» Up to 35% off at Monoprice.com

» Shell Shocker Deals at Newegg.com

» eBay
- Shop Victoriously!