ECS G33T-M2 (V1.0) Intel G33 mATX Motherboard

One of Intel's latest motherboard chipsets, the G33, has been designed specifically for the digital home consumer. A few of its advanced features include support for a 1333MHz bus, the capabilities to use both DDR2 and DDR3, Intel Graphics Media Accelerator 3100, high definition audio and video, and SATA RAID to name a few. While the chipset can provide all of these features, the individual motherboard manufacturers determine which are actually implemented.

ECS has released a new mATX motherboard based on the Intel G33 chipset, their model number G33T-M2 (V1.0). This motherboard offers a budget conscious solution for "ultra slim multimedia systems" that leaves a few of the G33 chipset's capabilities on the shelf for the higher priced boards to offer. It is not geared towards serious gamers and enthusiasts, but it also isn't a lightweight as it offers desirable features such as Gigabit networking, x16 PCI Express graphics, and support for the latest Core 2 Duo and Core 2 Quad processors.


Packaging:

The ECS G33T-M2 (V1.0) Intel G33 mATX Motherboard is packaged in a fairly typical box that would let a consumer know what they were dealing with if it were found on a retail shelf. The front of the box provides a brief overview of the major features and the supported CPU models, while the back of the box presents a view of the motherboard, pointing out the key features and specifications.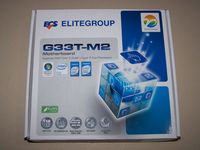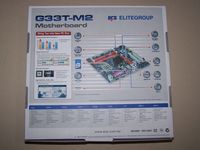 While the packaging may detail a number of key features and specifications, before taking a look at the actual G33T-M2 (V1.0) Intel G33 mATX Motherboard provided for review, let's take a look at the rest of this information as found on the ECS website...

Features:


| | |
| --- | --- |
| Windows Vista Ready | The latest generation Microsoft O.S., delivers better personal productivity and digital entertainment on your PC through its improved reliability, security, and performance. |
| High-speed USB 2.0 | Delivers transfer speeds up to 480Mb/s for easy connectivity and ultra-fast data transfers |
| FSB1333 | Supports the latest 1333MHz front side bus Intel Processor |
| PCI Express x16 | Delivers up to a 4x increase in graphics and 2x I/O bandwidth for smooth multimedia performance |
| Gigabit LAN | Gigabit LAN supporting a high transfer rate up to 1 Gb/s. |
| Dual Channel DDR2 800 | Doubles the bandwidth of your system memory up to 12.8GB/s and pumps up the system performance. |
| Serial-ATA 2 | Double bus bandwidth which provides blazingly high disk performance, ensuring your computing experience will be faster, more reliable, and completely with current and future hardware and software. |
| 8 Channel High Definition Audio | 8 Channel High Definition Audio |
| Core 2 Duo | Dual-core is basically two separate processors on a single chip. Those two processors can outperform single-core processors on most multithreaded applications while running at lower clock speeds and consuming less power. |
| Core 2 Quad | The new Core2 Quad processor combines two dual-core chips in a single package that plugs into a single chip socket. It enables even more multitasking with greater performance. |
Follow Us





Bruin Tracks
» Up to 35% off at Monoprice.com

» Meritline.com Daily Deals
» eBay
- Shop Victoriously!