Ultra Products 2.5" Aluminum USB 2.0 HD Enclosure - Page 1 of 2

Recent reviews at Bigbruin.com have taken a look at a handful of items from Ultra Products, and others have taken a look at a handful of portable hard drive enclosures from various manufacturers. This time around we have the Ultra Products 2.5" Aluminum USB 2.0 HD Enclosure, adding another point of reference to both categories.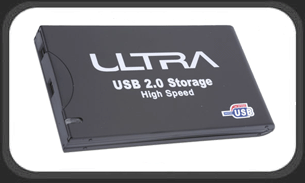 In case you are unfamiliar with Ultra Products, they are a global, technology-solutions provider headquartered in Fletcher, Ohio. The company offers a wide range of solutions, products, and services to resellers and end users worldwide. Ultra Products currently offers case fans and lights, CPU coolers, designer cases, DVD products, hard drive coolers, media drives, complete memory solutions, memory coolers and power supplies.

This review will be approached as an addendum to an earlier review: the Mini Hard Drive Mini Roundup. A few mini portable hard drives were tested in that review, and we will now test the Ultra Products USB 2.0 2.5" HDD enclosure against them. The Ultra Products' unit is packaged as an enclosure only; you need to supply your own 2.5" laptop hard drive. For testing purposes I installed the same 20GB 4200 rpm Fujitsu hard drive that was installed in the ME-910 enclosure and tested previously.

Review Criteria:

As in the Mini Hard Drive Mini Roundup I will rate the enclosure on the following; portability, durability, performance and of course price. Before getting into the details of the actual unit, the following specification data is provided on the Ultra Products website.

Specifications:

• Material: Aluminum
• Application: 2.5" IDE drive
• Interface: USB2.0
• Data Trans. Rate: 480Mb / Sec.(USB to IDE)
• DC Input: USB/PS2+5V
• Hot swap: Plug & Play Yes
• Compatible OS:
&nbsp&nbsp&nbsp• Windows 98/98SE/2000/ME/XP
&nbsp&nbsp&nbsp• MAC OS X

The Basics: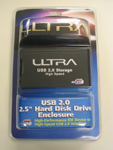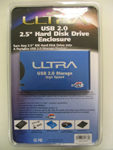 The unit ships in the blister packaging shown above, and includes the items shown below...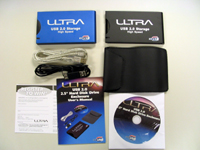 The enclosure comes with the following: manual, registration card, driver CD, USB cable, USB power cable, pouch, enclosure and alternate color aluminum cover. Assembly is quite easy as expected; it takes less than five minutes. As you can see in the pictures below the drive slides into the connector and is attached to the plastic frame by four screws.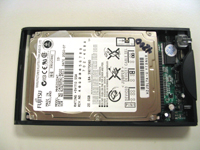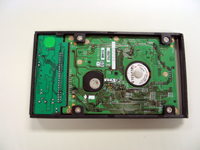 The overall size is pretty good; it is approximately the same size as the Kanguru drive tested before. It measured in at 135mm x 76mm x 15mm and weighed 166g for the enclosure only and 225g with pouch and cable.

Portability:

While this enclosure has approximately the same length and width as the Kanguru, it is about a third thinner. While 7mm doesn't sound like much, it certainly does make a big difference when you are trying to slide it into your pocket. But it is still a lot larger than the Transcend StoreJet.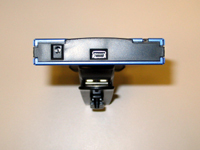 As you can see above, this drive also uses a USB A to Mini B cable, but it also includes a separate USB power cable connection. This is the only enclosure tested thus far that has actually required this cable for several laptops it was tested on. Even though this drive beat the Kanguru on size, I still have to give it a lower rating since this extra power cable may be necessary to use it.







Durability:

The interchangeable aluminum covers appear to be thick enough to protect the drive from small impacts, really anything more would likely shock the hard drive and cause damage anyway. The only concern is with how the covers are held in place; each cover uses four screws that are quite similar to eye glass screws. These screws hold the cover onto the plastic frame that houses the PCB. Based on the shape of the enclosure I do not think a fall could cause these screws to pop out but it may be possible to strip them since they are so small. This drive utilizes a standard 2.5" HDD so future replacement or upgrades should be easy. One item to note: the packaging says install "ANY" 2.5" drive, this is not true! Only lower profile 9.5mm drives will fit.







Please read on to the next page for more... Next

Page 1 | Page 2 | Home | Forum | Review Index | Page Views: