Arctic Cooling Silentium T2 ATX Case - Page 2 of 4

Silentium T2 External Examination:

Looking at the front, the most outstanding feature of the case is the rounded top and bottom. Otherwise the front of the case is pretty plain. The power button glows blue when the computer is powered on. Right below the power button is two USB 2.0 plugs, and a microphone/headphone plugs. There is also a place where you can install a Firewire plug, however this plug is not provided so you will have to put it in yourself.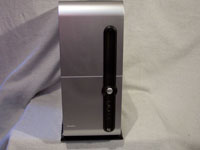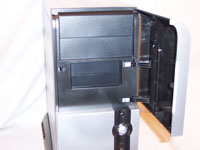 Behind the door on the front of the case are two 5.25 drive bays and two 3.5 drive bays. You are not able to install any drives directly, you have to remove the side panel, and then remove the front bezel. While this is a little inconvenient, it does help ensure your drives are flush with the drive openings once you put the bezel back on.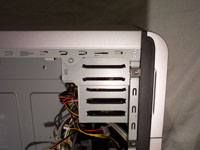 The side panels are plain; there are no windows or fan holes. This helps keep the panel solid and lowers the amount of noise coming from the inside of the case. Looking at the rear of the side panel, you can see the included thumbscrews to attach the side panel to the rest of the case. Usually when you remove the panel, you have to keep track where you put the screws, the Silentium T2 has made it so you don't have to fully remove the thumbscrews in order to remove the side panel.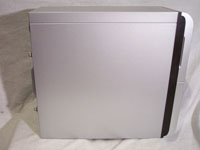 Out back you will get your first glimpse of what makes this case unique. While at the top of the case you see two fan grills, this is not for the power supply. If you look closely, you will notice the plug for the power supply is at the bottom of the case, but there are no fans down there. This is because the power supply is not at the back of the case, but rather at the front. The other difference on the back of the case is the "honey-comb" ports. There are no fans blowing through these openings, but rather they are a passive exhaust.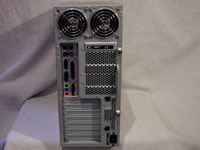 Instead of the power supply pushing hot air out of the back of the case, it pushes it out of the bottom front section of the case. The only other item on the bottom of the case is two rubber feet that helps keep the case on its base and absorb any vibrations.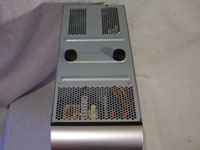 The case sits on a plastic base that has vents and air channels to make sure any hot air is pushed away from the case. I found these work amazingly well. With the computer turned on I could feel the hot air coming out of the proper places. Since there are intake and exhaust vents on the base, it won't work as well if it was sitting on carpet, as the vents could become slightly covered by the carpet fibers.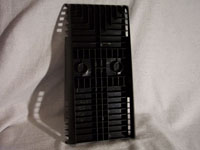 Please read on to the next page for more... Next

Page 1 | Page 2 | Page 3 | Page 4 | Home | Forum | Review Index