Seasonic S12 500W Power Supply - Page 2 of 3

Features:

• Dual +12V Outputs
• Dedicated Output Voltage Lines
• External Fan Control Output
• Super High Efficiency (up to 80%)
• Active Power Factor Correction (99% PF)
• Smart and Silent Fan Control (S^2 FC)
• 120mm Cyclone Cooling Fan
• Ultra Ventilation (Honey Comb Structure)
• Forward Converter Circuit Design
• Universal Free AC Input (Full Range)
• Twisted and Tidy Wires
• Patented Easy Swap Connector (for 4-pin Molex connectors)
• Cable Management Kit (Dr. Cable)
• All-in-1 Connector Design
• 3-Year Warranty

Here are the connectors available on the 500W Seasonic S12 power supply. As you can see the power supply is quite complete. The only thing particularly frustrating about this power supply is the 24-pin motherboard power connector Seasonic decided to make their standard. This setup requires most users to use a 24-to 20-pin adapter for the 20-pin motherboards, the adapter is quite long and adds unnecessary wiring to the main power supply line. It would be nice to see a power supply manufacturer come up with an alternative to these bulky adapters. At the very least the length of these 24-pin to 20-pin power adapters should be reduced.

Connectors:

• 1x 24-pin (MAIN) motherboard power connector
• 1x 6-pin (AUX) power connector
• 1x 4-pin (CPU) 12V power connector
• 1x 8-pin (EXTRA) power connector (for Dual CPU)
• 6x 4-pin (HDD) connectors
• 2x 4-pin (FDD) connectors
• 3x 15-pin (SATA) connectors
• 1x 3-pin (Fan Monitor) connector



Quality:

When you first pickup the Seasonic S12, the first thing you notice is the textured finish of the power supply. The black finish will go nicely with 90% of users custom built computers. I was quite satisfied with the quality of the Seasonic S12. The wires were nicely organized and twisted, preventing your case from becoming too cluttered. Seasonic did their users a favor by including the easy to remove molex connectors (pictured below), identified by Seasonic as "patented" Easy Swap connectors on their power supply.

Pictured next are a close-up of the SATA connectors and the fan controller cable that's included with the power supply. This cable connects directly to a 4-pin molex connector from the power supply and allows three 3-pin fans to be controlled by the power supply. The feature works by changing the voltage of the fans, so be sure that your fans support this feature before hooking them up. This is a nice feature but however many fans today are of the 4-pin molex variety.

The last picture provided in this section is a close up of the 120mm fan located at the bottom of the power supply. The fan is quiet, but moves a substantial amount of air. The larger fan requires less revolutions to provide adequate airflow, allowing you to cool the power supply and remove excess heat from your case without loud fans buzzing in your ears.



Below are some pictures of the Seasonic S12's insides. The heatsink included in this power supply looks different then most manufacturers but appears to work well. Other than the typical capacitors, wiring, and circuit boards we found nothing special inside. Unfortunately, Seasonic neglected to include any special features, such as an adjustable potentiometer in this particular model. Please note, opening a power supply will immediately void your warranty.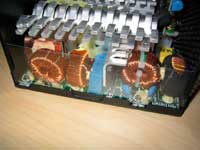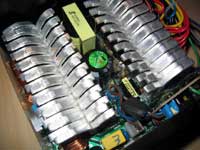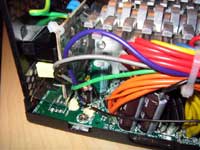 Please read on to the next page for more... Next

Page 1 | Page 2 | Page 3 | Home | Forum | Review Index