Choosing a Personal Digital Assistant - Page 1 of 2

In the early days, Personal Digital Assistants (PDAs) were not much more than glorified calculators with the ability to store contact information and brief notes. Now, the line between personal computer and personal digital assistant is blurred thanks to the advanced capabilities of these useful little devices.

There are plenty of makes and models to choose from in the PDA market, and finding the right model to suit an individual's needs can be a dizzying challenge. This Tech Tip will take a look at seven basic things to consider when choosing a PDA in an attempt to help simplify the process.

Software:

The software on a PDA is capable of running completely independent of your computer, but being able to share files and resources between them is one of the key convenience features. Software availability is one issue, but compatibility is another. In general, a PDA will come with one of two operating systems: Palm OS or Microsoft Pocket PC, each with its own very different approaches to running one of these devices.

Palm OS is the modern version of the operating system that was found on some of the first PDAs, Palm Pilots. No longer just a dull, greyscale environment, the Palm OS is a sharp looking operating system with many software titles available (either included, as downloads, or for purchase separately) to do just about anything you would want to do on a PDA.

Microsoft Pocket PC is themed after the familiar Windows operating system, and this similarity gives the millions of Windows users a comfortable environment to work with when transitioning to a PDA. The basic commands are the same, and of all the software titles available for a PDA running Pocket PC, many of them are reduced "pocket" versions of what might be found on a computer such as Microsoft's Word and Excel. Multimedia applications are a strong point of the Pocket PC environment, with many titles developed to make these devices more enjoyable and versatile. Applications are available for either operating system to do just about the same thing, although specific titles available for one may not be available for the other.

Speed:

The speed of the processors in PDAs is picking up, and some older desktop computers are being left in the dust by these little devices. Presently, the bulk of the devices on the market are running at clock speeds of 300 MHz or higher, sometimes much higher. The HP Ipaq HX4700 sports a 624 MHz Intel processor, which is also currently the processor found in the high-end Dell Axim X50v.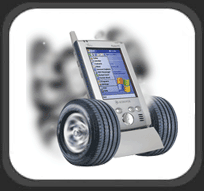 In general, faster processors can be found in the Pocket PC devices, but that does not mean that Palm OS devices are slow. Many experts would argue that the Palm OS runs more efficiently, and may be able to get by on less system memory, which helps keep the speed comparison competitive.

The applications for PDAs have been optimized to run well with less processing power, less system memory, and to occupy a minimal amount of disk space, so either type of PDA should be able to handle typical tasks well. Speed may be the main concern on a desktop PC, but the focus is a bit different on handheld devices, where other features are definitely more important.

Connectivity:

Being able to connect a PDA to a computer or other device may be essential for utilizing all of the features to their full potential. Most now make connectivity to a PC via USB the base form of transferring data to the device, but there are a few wireless protocols that may be available on a PDA to make it even more convenient.

Infrared is a short range protocol that can allow a PDA to exchange data with another PDA, as well as with a compatible laptop or desktop computer. Many PDAs feature an infrared port, but not all computers do. The communications on this protocol are relatively slow, but may be useful for transferring basic data or synchronizing with a PC.

Bluetooth is a protocol that operates on the 2.4 GHz radio band that provides greater range than infrared, but the speeds still aren't that great. Bluetooth can be used for transferring data from computers, but it can also allow other devices to connect to a PDA. For example, a Bluetooth-enabled PDA linked to a Bluetooth-enabled cell phone may be able to access the Internet using the phone as a sort of wireless modem.

WiFi, just as on your typical computer, is the high speed wireless protocol (802.11x) that also operates on the 2.4 GHz radio band. WiFi will not only allow compatible devices to exchange files, but the high speed will make streaming media and web surfing convenient at home, or at the numerous wireless "hot spots" popping up in public/commercial settings.

Extra Features & Accessories:

It isn't enough for PDAs to keep track of serious business items like appointments and contact information any more. They need to be able to multi-task, and most are now able to help their owners work and play. Many of these features may be considered nice extras by some, but others may insist on their availability when choosing a PDA.

Many PDAs can now surf the Internet, stream movies, or play video games thanks to the higher resolution color screens. Most now include a stereo sound processor for listening to MP3s or other audio sources, as well as being able to double as a digital voice recorder.

Other PDAs take the fun features to a whole new level. Some PDAs now double as mobile phones. Or is it that mobile phones that are doubling as PDAs? Many mobile phones have built-in cameras now. PDAs like the PalmOne Zire 72 include a digital camera for capturing stills and video clips at decent resolutions. Taking another look at the Zire 72 shows off another feature that has become popular in PDAs… GPS (Global Positioning System) receivers that will help plot and track routes during travel.

Many PDAs also offer a wide array of extra add-on accessories to add ease of use and maybe a touch of flash to your PDA. For example, most manufacturers offer such things as spare batteries, extra styluses, and upgraded leather cases. Other cool items may be a foldable keyboard that can be plugged into the PDA for easier typing, automobile charger so that you can charge your PDA while driving and even international power adaptors to use your PDA in different countries. Like cellphones, some PDAs even come with removable covers so that you can totally customize how your PDA looks.

Please read on to the next page for more... Next

Page 1 | Page 2 | Home | Forum | Review Index | Page Views:

Get Tech Tips and Computer Tips at Geeks.com!