Logitech Cordless Desktop LX500 - Page 1 of 1

With the wires coming out of our computers starting to get out of control, more and more of us are looking at ways to to clean things up. One of the ways of doing this is to go with a wireless mouse and keyboard like the Logitech Cordless Desktop LX500 that the good people at Geeks.com were nice enough to supply us with.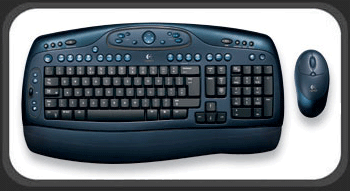 As well as being able to use it as a straight replacement for a desktop mouse and keyboard, it also works great as the keyboard and mouse for a HTPC system. This is how I will be using and testing the system. When I first built my HTPC/SFF system late last year I got a Microsoft wireless mouse and keyboard. While the mouse worked great from a several feet away, the keyboard... well let's just say it was barely wireless. So I was happy to get a chance at the Logitech cordless desktop system.

Features (as taken from Logitech website):

• Ultra-flat profile with Zero-Degree Tilt: Striking new keyboard design delivers ergonomic comfort -- without changing the way you work.
• New Logitech® Media Life™ software: Bring together your digital pictures, video clips, and music playlists in a single bold interface with easy navigation.
• Sleek keyboard controls: Control audio/video playback, launch Microsoft Office applications, and more… or reprogram the buttons to do whatever you want.
• One-touch communications: Access email, activate a webcam, launch your instant messenger, and even change your online IM status… all with just a click of a button!
• Powerful two-handed navigation: Keyboard scroll and zoom features complement the scroll, pan, and zoom on the optical mouse to make using your computer more convenient, more efficient, and more comfortable.
• Higher standard of comfort and style: Precision refinements to key shape, feel, identification, and layout make keystrokes effortless and sure.
• Secure, reliable cordless technology: Encrypted wireless technology avoids interference for completely reliable performance with no cord clutter, and Fast RF gives crisp, immediate mouse response.
• Premier optical mouse technology: Smooth, precise tracking on a wide range of surfaces.
• Enhanced mouse features: Use Logitech's Tilt Wheel Plus Zoom scroll anywhere in a document (up, down, side-to-to-side) without going to a scroll bar, then shift to zoom mode with one click.

Here we can see the box, and all the contents in the box. It includes the mouse and keyboard (of course), wireless receiver, software install CD, quick install instructions, and 4 AA batteries (2 for each the mouse and keyboard).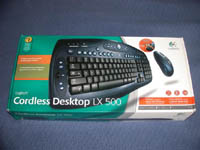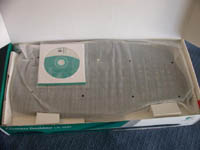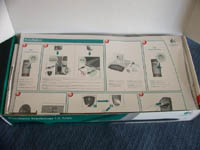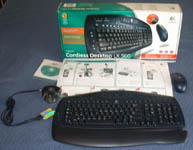 Here is the receiver. As you can see it's pretty small, but still has some style to it in case you can't hide it. It also includes an adapter so it can be used on either a USB or a PS/2 mouse port.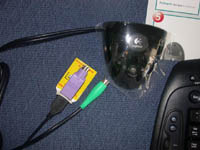 Let's take a closer look at the keyboard...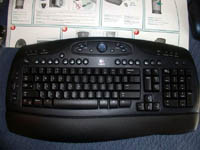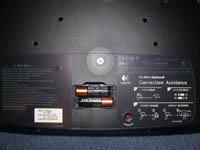 Of course the keyboard is a modern multi-media keyboard with all the fancy buttons on it for things like your calculator, e-mail, web browsing, etc. We can also see where the batteries go on the back, and if you can see a small red button by the batteries that can be used to initiate a connection with the wireless receiver. You will see this on both the mouse and the keyboard as well as a button on the receiver. However I never had to use these buttons as they would just link up automatically.

Now let us take a closer look at the mouse...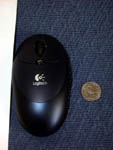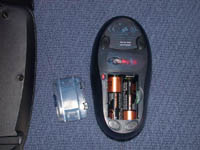 The mouse is very comfortable and appropriately sized to fit most hands (it was comfortable for both mine and my wife's hands). It also includes a nice little button under the wheel that when used with the included software enabled you to easily switch between applications (like ALT-TAB).

Test System:

• MSI Mega 180
• Athlon XP 3000+
• 512MB PC2700 RAM
• Seagate 200GB ATA HDD
• NEC ND-3500A DVD+/-RW 16x
• On board Nforce Video & Sound
• Intel Pro 2200BG Mini-PCI Wireless NIC
• JVC 27" TV
• Logitech Z-640 5.1 Surround Speakers

Installation was easy, simply unplug my old receiver and plug in the new one, install the batteries in both the mouse and keyboard... and off you go. There was no additional software required for basic use. However, to get more of the advanced features (such has the application switching button, changing the default click options, etc...) it requires you to install the included software.

These are pictures of the receiver installed. I had wanted to leave it on top of the TV by the center speaker, but unfortunately this caused the system to have poor range. Once I moved it over to the side (shown in the 2nd picture) the range expanded noticeably.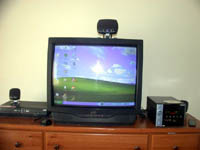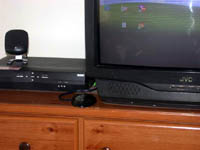 I played around with the mouse and keyboard for while and was very happy with the extra range the keyboard had given me over the original Microsoft setup, it went from only 2-3 feet, to about 8 feet. The mouse, however, was a bit of a disappointment. While it was very comfortable to use, it was a bit flaky in its operation. Using it at the same range as the keyboard, it would sometimes move choppy and the mouse clicks wouldn't always register. When moved closer, in the 6 foot range, it would work much more reliably.

Conclusion:

The look, feel, easy of use, and cost of the Logitech Cordless Desktop LX500 can easily put it on anyone's "to get" list. If you are looking to clean up your desktop space and not sacrifice performance or comfort, then you can feel comfortable buying this system. However, if you are using it on a HTPC system, make sure you know what the distance is you expect to be using your mouse and keyboard. If it's within 6 feet, you should have no problems what so ever. If it's between 6 to 8 feet, you might experience some "quirkiness" with the mouse. Any further than 8 feet, I would not recommend using the LX500 unless you can move the receiver closer to you than your TV.

Final Rating (4 out of 5 stars):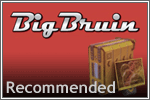 Pros:

• Easy to install and use
• Comfortable for most hands
• Nice features on both mouse and keyboard
• Reasonable price range for a high quality mouse and keyboard

Cons:

• Mouse usage quirky at greater than 6' from receiver

Special thanks to Geeks.com for providing the Logitech Cordless Desktop LX500 to BigBruin.Com for review!

Please drop by the BigBruin.Com Forum and feel free to discuss this review.

Page 1 | Home | Forum | Review Index | Page Views: