Sunbeamtech Lightbus Lighting Controller - Page 1 of 1

A normal fan controller is able to make fans go slower and faster, and is generally capable of making lighting products go brighter and dimmer. The Lightbus from Sunbeamtech is different... It was designed from the ground up as a lighting controller only.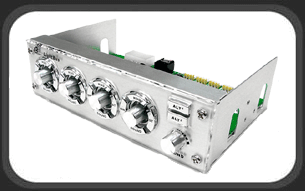 The Sunbeamtech Lightbus is mounted in a 5 ¼" bay and features 4 adjustment knobs each surrounded by 4 buttons labeled "ON", "HDD", "ST", and "SOUND". To the right hand side is another two buttons labeled "ALT1" and "ALT2" with another knob below that labeled "SOUND".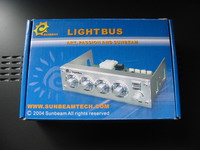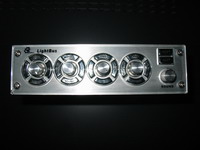 With all the different styles of connectors things use to get their power, Sunbeamtech had to get creative to be able to interface with almost any controllable item. Most devices use standard Molex connectors for power, but cold cathode tube inverters like to use a different connector usually adapted to a Molex. Fans can either be Molex or common 3 pin fan power connectors. Sunbeamtech came up with a solution to cover almost any need. On the back of the device itself each channel uses a 3-pin fan style connector. You can plug a fan in directly. You are also given 4 leads that plug into the 3 pin headers and give you a Molex and a single CCFL inverter plug each. This was great thinking by Sunbeamtech. Also included is a Molex "Y" adapter, stereo sound "Y" adapter and a 2 pin header connector, more on the last two later.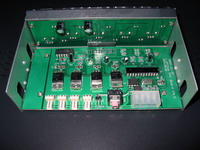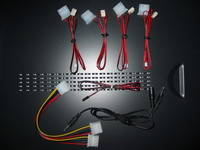 Control Functions (from the Sunbeamtech website):

• ON: Press this button to turn on CCFL's or fans connected, press again to turn off.
• HDD: Lights flash as the HDD light flashing so that you can learn the working status of your computer from the lights like.
• ST: Lights fade in/out gradually.
• SOUND: Lights will respond to the sound signals from the sound card.
• KNOBS: Control the fan speed or the light brightness. Rotate the knob clockwise for enhancing; withershins for weakening. (withershins?)
• ALT1 & ALT2: 2 different effects that make lighting rotate between channel1 to channel4.
• SOUND KNOB: Adjust the sound sensitivity.

Below are a couple of pictures of all 4 channels running a different style of device. Channel 1 has a pair of UV CCFL's tied to a single inverter. Channel 2 has a yellow CCFL, channel 3 has a Sunbeamtech 3 LED Laser, and channel 4 has a blue Sunbeamtech LED fan.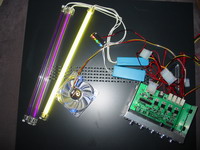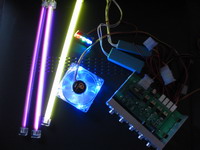 The Sunbeamtech Lightbus is able to strobe the lights on any one or more of the channels in tune to the music your sound card is playing, or to show when your hard drives are active. The 2-pin cable included plugs into your motherboard IDE or hard drive activity header. Pushing the HDD button on a channel makes that channel turn into a hard drive activity indicator. This feature works very well, however, I would choose carefully what device you choose to have this function, the constant blinking drove me nuts!

The 1/8" stereo "Y" adapter is meant to go through the back of your case and plug into your sound output port on your sound solution. There is also a connector to keep your speakers in the loop. The sound function was very touchy. The circuitry that the Lightbus uses for this feature responds to all sounds, be it low bass or singing. The effect must be tuned with the sound control knob or you will have no flashing of constant on. Once I got done finding the sweet spot, the song ended and I had to find a different sweet spot for the next song.

The ALT1 and ALT2 function buttons cancel out any of the independent choices for each channel and throw all 4 channels into a strobe effect. ALT1 makes each channel turn on then off in succession, ALT2 turns each channel on one by one then resets them to off and begins over again. The intensity knobs still work for these features, although I would have liked to see them change to control speed instead of intensity during ALT1 or ALT2 mode.

Sunbeamtech also has several animated GIFs on their site to show more possibilities, here are a couple...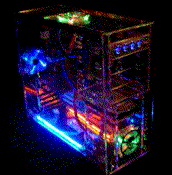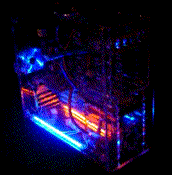 Conclusion:

As I stated before about the Chameleon from Sunbeamtech, the Lightbus does what no other device is capable of doing and does it quite well. If you like creating custom lighting effects, this Lightbus is for you. The HDD activity function is a very nice touch. The sound control is touchy, but is workable. The inclusion of everything you need except for lights is great. The box indicates there is a black version of this controller available, but no information exists on the sunbeam website to back this up. One other thing to note, because of the way it mounts, it may be difficult to mount in a tool-less case.

I was able to locate the Sunbeamtech Lightbus at Frozen CPU for $47.99 and Jab-tech for $39.99.

Given the unique features and special lighting effects it can help create, I award the Sunbeamtech Lightbus 4 out of 5 stars... "Recommended". As a point of comparison, I just posted a review of a similar product, the Sunbeamtech Chameleon Lighting Controller, and I found that devices features worthy of a 4.5.

Final Rating (4 out of 5 stars):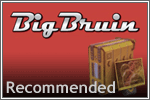 Pros:

• Includes the necessary cables
• Unique
• Does what its advertised to do
• Neat features

Cons:

• Sound sensitivity
• May be hard to mount in a tool-less case

Special thanks to Sunbeamtech for providing the Lightbus Lighting Controller to BigBruin.com for review!

Please drop by the BigBruin.Com Forum and feel free to discuss this review.

Page 1 | Home | Forum | Review Index | Page Views: