Five Tips For Buying a Laptop Computer - Page 1 of 3

Purchasing a laptop is a large investment, and one that can be complicated by all of the options, manufacturers, and technical mumbo-jumbo that needs to be sifted through. Before you spend a lot of money on a laptop, it is important to spend a little time considering some basics that may affect the decision-making process. This Tech Tip will take a look at five of the innumerous things worth considering when buying a laptop computer.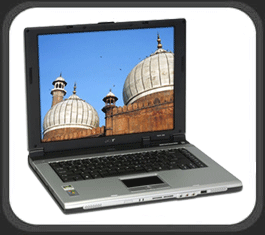 Ergonomics:

If you are going to be spending any significant amount of time working on this laptop computer, you're going to want to be comfortable. A well-designed interface is essential for comfort, as well as good health. Carpal tunnel syndrome or tendonitis may be some of the more common conditions associated with extended computer usage, and selecting the most comfortable laptop may help avoid them all together.

The keyboards on laptops generally feature compressed layouts with smaller keys, which may place a strain on hands and wrists as users try to adapt to these miniature arrangements. Generally speaking, the larger the laptop, the larger the keyboard, as they are usually designed to span the entire width of the unit.

Most laptops use either a touchpad or tracking pointer (knob) as a replacement for a mouse. These may be adequate for occasional use, but even the best designs can become frustrating and uncomfortable when used extensively. Plus, when used for game play or other applications where precise motion is critical, they just don't cut it.

Purchasing a separate mouse may be the best bet, as it allows you to place your arm in a more familiar (and comfortable) position, as well as providing something that may fit your hand much better. Notebook mice are available in a wired or wireless version, and generally feature a slightly smaller footprint than your typical mouse.

Connectivity:

Being able to connect to common devices is just as important on laptops as it is on desktops, but being able to add these connections down the road is not as easy on a laptop. Upgrades aren't as easy on laptops due to the basic design, so make sure what you need is included up front.

Wireless networking is almost a must-have feature on laptops now. The cord has been severed to every other shackle confining you to your desk; don't let network connectivity hold you back. Wireless networking adapters are available as upgrades via either PCMCIA cards or USB adapters, but many now offer it onboard, hidden inside the system's housing. Integrated wireless is the best option if available, as it requires fewer accessories to carry and to configure, and leaves those expansion ports open for other uses.

USB 2.0 may be the most common peripheral connection, and many laptops may still come with just one port. That's fine if you don't mind carrying around a USB hub, but the more you have to carry, the less mobile you are. A good example of the importance of USB is that many people decide they want to use a separate mouse for ergonomic reasons, and generally it will connect via USB. On a laptop with just one port, you now have to juggle the use of the mouse with connecting anything else, like a digital camera, MP3 player, or an external hard drive.

Please read on to the next page for more... Next

Shop for an Acer Ferrari 4005WLMi Turion 64 ML37 2GHz Laptop:




Page 1 | Page 2 | Page 3 | Home | Forum | Review Index | Page Views:

Get Tech Tips and Computer Tips at Geeks.com!