Enermax EG701AX-VE(W)SFMA V2.0 600 Watt PSU - Page 1 of 2

With computers having more and more hard drives, optical drives, video cards with huge power requirements and even the possibility of running dual video cards with SLI, what is enough power when it comes to your PSU? Even more important, the quality of the power the power supply puts out can mean the difference between a stable machine and one you have to fight to keep running.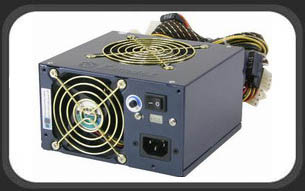 We have reviewed 15 different ATX power supplies on BigBruin.com in just over a year and a half. Some have been incredible performers while some were hard to call power supplies at all!!! This will be the first supply we have tested that breaks into the 600 watt range. That's a lot of power, do you need this much? Can the biggest Enermax Noisetaker provide rock solid power? Read on to find out…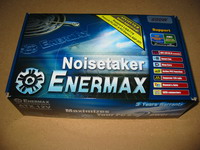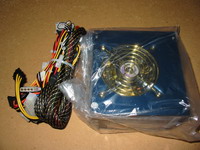 First Look:

The EG701AX-VE(W)SFMA V2.0, or 600 Watt Enermax power supply for short, is Enermax's current top of the line, all option, power house. It is packed with features low end PSU's do not have. For starters it is fully Intel P4 Prescott and AMD 64FX compliant which means it meets the V2.0 ATX 12v specifications. This power supply is an active PFC or Power Factor Correction supply. There are dual 12 volt rails, one for the motherboard and processor and the other for hard drives, optical drives, and everything else. This supply has 4 SATA connectors, is good for 20 or 24 pin motherboards, and is one of the first PSU's to offer a new generation PCI express 6 pin video card connector. Even the cooling system incorporated is high tech with both automatic and manual control and Smart Fan. Smart Fan keeps the fans in the supply running for at least 2 minutes after the computer is shutdown.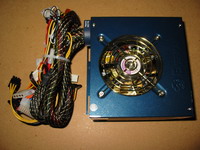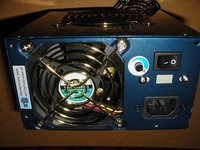 Specifications (from Maxpoint website):

Below you can see just how many connectors this thing has. There are 7 four pin Molex, 4 SATA, 2 floppy, a 4 pin aux power connector, a 6 pin PCI express video card connector, and a main motherboard ATX connector. Enermax claims on their website that the next Noisetaker PSU will include 2 six pin PCI express video card connectors to support dual card SLI applications.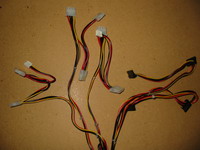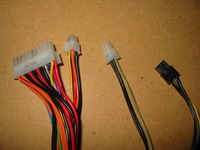 Enermax has come up with a great way to provide both 20 pin and 24 pin motherboard power. The standard 20 pin connector has tabs that allow you to mate the other 4 pins to the 20. The pictures below show the 24 pin and the 20 pin disconnected from the mating 4 pin.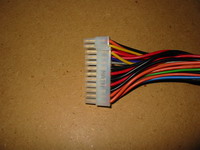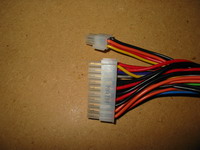 All three of the main bundles coming out of the PSU are covered with black mesh with strands of yellow crossing through. This is a nice feature, but I have seen supplies that were wrapped with a better quality mesh and wrapped more efficiently. There are bundles that are wrapped together; I prefer to have single feeds wrapped for better cable management. One flaw I did discover when unpacking the PSU was some of the mesh had pulled out of the heatshrink covered wire tie on the Molex and floppy bundle as the pictures below show. I folded the mesh under and added another wire tie. This is most likely an isolated issue and not something to be concerned with.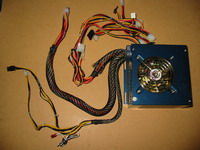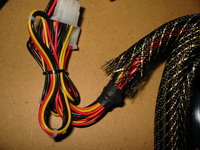 This would not be BigBruin.com if we didn't void a few warranties. Breaking through the warranty sticker and splitting the case showed the quality that goes into the Enermax 600 watt PSU. The picture below and left shows the guts of the Enermax, below and to the right is a 500 watt OKIA PSU I keep around only for comparisons like this. You get what you pay for.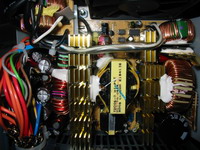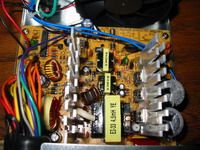 Please read on to the next page for more... Next

Page 1 | Page 2 | Home | Forum | Review Index | Page Views: