Enermax EG701AX-VE(W)SFMA V2.0 600 Watt PSU - Page 2 of 2

Installation:

Installing the Enermax 600 watt PSU into my main machine proved no more a challenge than any other PSU. The wire lengths were just right, with each being able to reach the lowest hard drive mounting position in my ATX case. The ATX connector is plenty long, bordering on too long, but it is flexible enough to tuck away above an optical drive without problems. Having 4 SATA connectors built in is nice as you don't have to use a Molex to SATA adapter cable. I currently run one Raptor and a pair of 120 gig Seagate SATA drives in RAID 1, the Raptor can use standard Molex power, but the Seagates do not have that opportunity. They only use SATA power connectors. Below are installed shots of the PSU and a shot of the SATA connectors.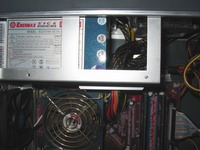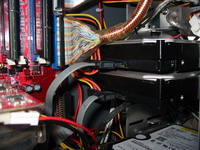 Testing:

I tested this supply a little different than the normal way. I used a Seasonic Power Angel to measure key power measurements. The Seasonic also includes a dummy load box for loading down a power supply. Look for a complete review of the Power Angel here.

A few words about watts, volt-amps, and power factor:

In AC systems, watts do not normally equal volts x amps (as they do in DC systems) because the voltage and current can be out-of-phase with one another. When the voltage is at a maximum, the current in the circuit can be somewhere in the middle. So the peak values of voltage and amperage may occur at different times. Power requires both voltage and current at the same time. Because of this, the product of volts and amps in an AC circuit is often higher than the actual power in the circuit. The ratio between these two values is called the power factor of the system or PF.

With the Power Angel measuring power supply input voltage, I grounded the sense lead and took some measurements. Completely unloaded the Enermax 600 watt showed a total load of .17 Amps, 17 Watts, 20VA, that works out to a power factor of .85 (P/VA=PF or 17/20=.85) or 85% efficient. Loading down the supply to 193 watts, 1.63 Amps, and 192VA, the power factor came out to be .99 or 99% efficient. For comparison, I also tested a non Active PFC supply and it showed a loaded efficiency of 66%. This means it took 257VA or 2.16 Amps to power the same 193 watt load. This is one very efficient power supply.

Time to check on rail voltages and stability on an actual system, which consisted of the following components:

• 2400+ 35 Watt Mobile Barton processor
• DFI Infinity nForce2 motherboard
• 2x256 Corsair XMS (BH-5)
• ATI Radeon 9700 PRO
• Leadtek Winfast TV2000 Expert capture Card
• (1) WD Raptor SATA HDD
• (2) Seagate 120 gig SATA in RAID 1
• NEC 3500A DL DVD burner
• DVD ROM
• 6 fans

The images shown below detail the current, high, low and average voltages on the different rails...




I was kind of surprised by the high/low monitor. The +3.3 volt rail is a touch low and seems to vary more than I would have liked to see. The +5 volt rail stayed nice and tight as did the +12 volt rail. I measured the voltages again during the 193 watt load test with a Fluke meter and got 3.22, 5.02, and 12.08 volts respectively. I did a Min/Max test on the +3.3 volt rail with the Fluke and didn't see nearly the fluctuations reported by Motherboard Monitor. The chart below shows reported voltage fluctuations from Motherboard Monitor during loaded and unloaded conditions within Windows.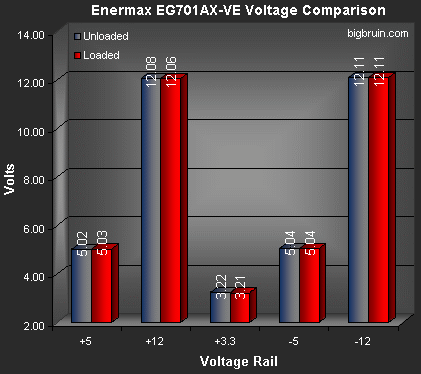 Conclusion:

Looking around the internet shows the Active PFC version of the Enermax 600 watt PSU available for right around $180.00. Some key locations worth checking out include eCost, Xoxide, and Newegg.

If you plan on running lots of hard drives, a bunch of optical drives, a few video cards, a pair of TV tuner cards, maybe a couple of Audigy 2 Platinum's, SCSI Raid controllers, and water cooling the entire thing, you are going to need some massive amounts of power. This PSU would be the right choice. Does the average one hard drive, pair of opticals, everything onboard machine need this massive amount of power? The answer is no.

The issue with the mesh pulling out of the heatshrink is most likely an issue nobody else will ever experience. Although MBM recorded some fluctuations in the +3.3 volt rail, I could not replicate the issue with a multimeter. 4 SATA and a PCIe video card connector is very forward thinking and a great touch. I really hate using adapters and splitters. Enermax has once again created a power supply ready for the future, and I give this 600 watt PSU 4.5 out of 5 stars.

Final Rating (4.5 out of 5 stars):







Pros:

• Huge amounts of power
• Active PFC
• Smart Fan
• PCIe and 4 SATA connectors

Cons:

• Mesh issues
• +3.3 volt rail is a little low

Special thanks to Maxpoint for supplying the Enermax 600 Watt EG701AX-VE (W)SFMA V2.0 power supply to BigBruin.com for review!

Please drop by the BigBruin.Com forum and feel free to discuss this review.

Page 1 | Page 2 | Home | Forum | Review Index