ThermalRock Eclipse Mid-Tower Case - Page 1 of 4

Many people are familiar with the ThermalTake brand of computer components, but that same name recognition doesn't yet apply to ThermalRock, a division of Thermaltake. ThermalRock presently offers innovative cases, coolers and power supplies, and for more information on the company they state the following on their website:

"We specialize in the design and manufacture of aluminum, copper and metallic alloy products that raise industry standards, while remaining cost effective. Our expertise in thermal solutions and industrial design have assisted ThermalRock in creating innovative computer peripherals that users will appreciate and makes us the index of many followers. With the rises of HTPC plus integration of PC and home appliances, ThermalRock is providing series of digital entertainment style PC peripherals that users can complete their Digital Home Entertainment Center with and be proud of. ThermalRock will continue to focus on the creation of HTPC applications to make us the leader of Digital Entertainment in the PC industry"

ThermalRock has supplied one of their latest cases, the Eclipse Mid-Tower, so let's take a closer look to see just how it stacks up.


The Basics:

The Eclipse comes in two colors, black and silver, both with the option of a solid side panel or transparent window. Our sample came in black with a windowed side panel. The Eclipse came packaged in a retail box well protected by Styrofoam and a cloth like wrapping to protect it from scratches.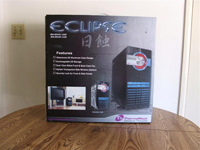 Also included in the box were a large bag of hardware, an instruction manual, two sets of keys, a set of 5.25" drive rails, and a soft polishing cloth.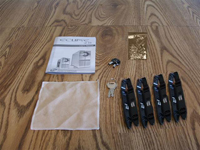 ThermalRock also included one CDR disk in the CD storage spot on the front of the case. The CDR is red as you can see by the picture below.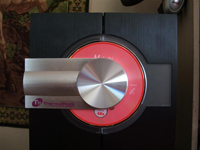 Specifications:

• Model: RH-M040-1AW
• Case Type: Middle Tower
• Side Panel: Transparent Window
• Dimensions: (H*W*D) 215.0 mm (W) x 480.0 mm (D) x 480.0 mm (H)
• Color: Black Coating
• Motherboards: 12' x 9.6" (ATX) & 9.6' x 9.6" (Micro ATX)
• Cooling System:
&nbsp&nbsp&nbsp• Front - 120x120x25 mm fan 1300rpm (intake)
&nbsp&nbsp&nbsp• Rear - 120x120x25 mm fan 1300rpm (exhaust)
• Net Weight: 6.2 kg
• Material: Aluminum 0.8mm (Chassis) / Aluminum (Front Panel)
• Drive Bays 4" x 5.25", 2 x 3.5" (Front Accessible) / 5 x 3.5" (Internal)
• Expansion Slots: 7 Slots
• Thermal Test Ambient: 38 °C, Intel Thermal Requirement Tested
• I/O Ports: USB2.0 x 2, IEEE1394 x 1, Micro phone & Ear phone ports
• Carton Dimension: (D x W x H) 550 x 255 x 535 mm

Please read on to the next page for more... Next




Page 1 | Page 2 | Page 3 | Page 4 | Home | Forum | Review Index

Page Views: