Corsair XMS TWINX1024-4400C25PT Dual Channel DDR - Page 1 of 4

When one sets out to buy some serious memory for gaming or for finding the ceiling of overclocking, Corsair XMS will be one of the first places they go looking. The XMS line has always proved to be extremely capable, stable and of the finest quality. Let's see if Corsair's reputation holds true once again.

From Corsair:

"Our flagship memory products are the XMS (Xtreme Memory Speed) modules, which are designed for the unique demands of the serious gaming community. The XMS memory line has become the industry's most highly awarded memory, garnering more rave reviews and Number One rankings than any other performance memory available today. With more high-speed experience than anyone out there, we know the importance of design features like tightly controlled trace lengths, controlled impedances, clock trace design, unbroken power and ground planes, and selectively plated gold. Corsair Memory has developed an industry-wide reputation for quality, compatibility and performance"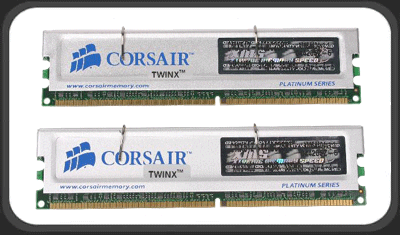 Corsair sent over a 1024MB kit of the fastest stuff currently in their lineup, a matched pair of CMX512-4400C25PT modules that sport the model number TWINX1024-4400C25PT. Pictures below show the modules packed in standard Corsair fashion and an overview of the holographic sticker Corsair uses for module identification.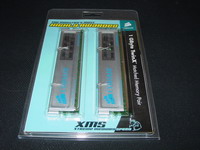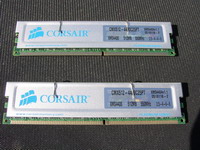 A close-up of the holographic security sticker shows the model number (individual model not the TwinX model), the speed, quantity, and SPD timings at advertised speed. As you can see in the picture on the right, these are dual sided modules.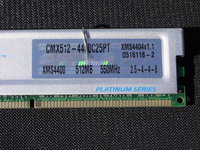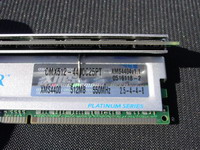 Unclipping the metal wire revealed thin double-sided tape retaining the platinum colored heatspreader. Corsair chose to use the infamous Samsung TCCD chips on a modified Brainpower board when designing these modules. But that shouldn't come as much of a surprise in a module claiming 2.5,4,4,8 timings at a whopping 550MHz DDR, or PC4400 speeds. Decoding the chips show them being manufactured the 13th week of 2005 (513), or sometime in late March or early April.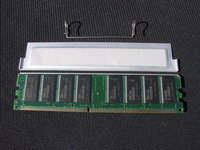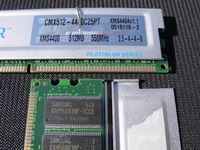 TCCD chips are well known for their proven overclocking, but one other thing people think they know about them may be false. The buzz is that Samsung has stopped making TCCD chips, and that we will no longer see them on the market once the current supply runs out. Not true according to Corsair. To quote a Corsair representative directly... "Corsair is the only manufacturing still and will continue to receive supplies of the famed Samsung TCCD chip. We DO NOT use TCC5, as it is sub-quality and does not deliver the performance or reliability that Corsair seeks." Very interesting!

Please read on to the next page for more... Next




Page 1 | Page 2 | Page 3 | Page 4 | Home | Forum | Review Index | Page Views: