512MB Corsair Flash Voyager - Page 1 of 2

"Corsair has been a leader in the design and manufacture of high-speed modules since 1994. Our focus has always been on supporting the special demands of mission-critical servers and high-end workstations, as well as the performance demands of extreme gamers." That quote is taken straight from the Corsair website, and provides a little background on the company sponsoring this review. The product being reviewed doesn't quite fit into that statement, but hopefully the same high-end, performance driven design and manufacturing back it up.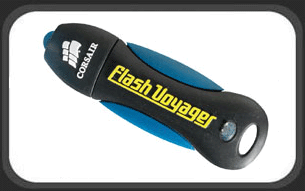 Corsair recently announced the release of a line of flash memory products to go with their system memory and water cooling products. Among the new products is 40x Type I Compact Flash in sizes up to 4 GB and Secure Digital cards up to 1GB. Also in the lineup is their new Flash Voyager USB 2.0 drive. The Voyager is available in sizes from 128Mb all the way to 2 GB, and we are going to take a look at the 512 MB version. Corsair's official model number is CMFUSB2.0-512.

The 512MB Voyager came packed in a security clamshell and included a nice Corsair lanyard, a USB extension cable, and the mini driver CD.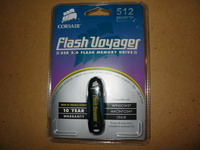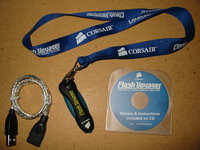 When shopping for a USB flash drive a few features are very important; Speed, size, durability, compatibility, and to a lesser degree software options. Let's take a look at each of these categories and see how the Voyager stacks up.

Speed:

Corsair claims that the Voyager is capable of sustained read speeds of 19MB/sec and sustained write speeds of 13MB/sec. On my particular machine, SiSoft Sandra scored a 19MB/sec sequential read and 12 MB/sec sequential write. On par with the published specifications, and much quicker than reference devices shown in the graph below.



HDTach produced numbers slightly lower than Sandra did at an average read of 15MB/sec. Regardless, the Voyager is definitely not a slug!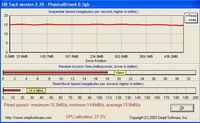 All of these benchmarks add up to 500MB of MP3s being written in approximately 73 seconds, and then read back in 51 seconds.

Size:

The Voyager is 3" long, 1" wide, and just under ˝" thick with the cap in place. The rubber coating on the Voyager can be an issue if you need to access an adjacent USB port. Some machines have USB ports that are not flush to the case around them; this caused the Voyager to have to be forcibly inserted, with the rubber kind of smooshed back a bit. I never found a situation where I couldn't get it plugged in, but adjacent ports could be unusable while the Voyager is in use. There are smaller Flash drives on the market, but what the Voyager gives up in size, it makes up for in durability.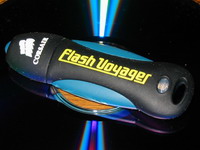 Please read on to the next page for more... Next

Page 1 | Page 2 | Home | Forum | Review Index | Page Views: