Zonet ZUB6110 Bluetooth Class 2 USB Dongle - Page 1 of 2

Bluetooth technology has been around for a while now, but in many respects still seems to be more of a buzz word than a well understood, commonly accepted technology. The FAQ on the Bluetooth.org website offers a basic definition with; "Bluetooth wireless technology is a worldwide specification for a small-form factor, low-cost radio solution that provides links between mobile computers, mobile phones, other portable handheld devices, and connectivity to the Internet." And, just in case you are as curious as I am as to where the term Bluetooth comes from, it is far less high tech than you might imagine... The King of Denmark from 940 to 981 was renowned for his ability to help people communicate, his name... Harald Bluetooth.

The particular Bluetooth device being reviewed is the Zonet ZUB6110 Bluetooth Class 2 USB Dongle. A compact device that will add Bluetooth connectivity to any PC with an available USB 1.1 port. A Class 2 device such as this provides a range of up to 20 meters, and maximum transfer rates of up to 723 kbps, in open space. As a comparison, a Class 1 device would offer the same speed, but a far greater range of 100 meters.

The Zonet ZUB6110 is sold in the box shown in the below left image, which would also house the ZUB6100 (the Class 1 version of this device). Inside the box we find the tiny, but well protected ZUB6110, a Quick Start Guide, and an Installation CD.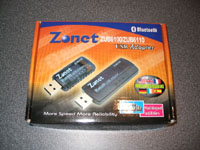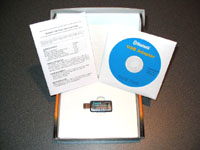 before taking a look at the actual device and its performance, lets look at some published features and technical information on the Zonet ZUB6110:

Features:

• Class 2, 20-30M
• Support Bluetooth Function:
&nbsp&nbsp• Serial Port
&nbsp&nbsp• Dial Up Networking
&nbsp&nbsp• Fax
&nbsp&nbsp• Headset
&nbsp&nbsp• PIM Item Transfer
&nbsp&nbsp• PIM Synchronization
&nbsp&nbsp• File Transfer
&nbsp&nbsp• Network Access
&nbsp&nbsp• Audio Gateway
&nbsp&nbsp• HID

Technical Information:

• Standard Bluetooth v1.1
• Frequency Band 2.4~2.4835GHz unlicensed ISM band
• Spread Spectrum FHSS (Frequency Hopping Spread Spectrum)
• RF Output Power Class 2
• Antenna Integrated PCB Antenna
• Sensitivity -70dBm at < 0.1% BER
• DC power source O5V (USB)
• I/O Interface USB interface
• Environment Operation temperature: 0C ~ + 70C
• Storage temperature: -10C ~ +70C
• Humidity: 5 ~ 90% non-condensing
• OS Support Win 98SE / ME / 2000 / XP
• Weight 9 gram
• Size 57(L) x 24(W) x 10 (H) mm
• Certification FCC, BQB

The two images below provide a close up of the ZUB6110's front and back, with a quarter thrown in for size reference. The device is comparable to a small thumb drive, and with an equally diminutive weight, one could easily lose it in their own pocket! The housing is a translucent grey with bright blue lettering sporting the Zonet logo and product description. A simple PCB is visible through the housing, and during operation an intense blue LED also makes its presence known.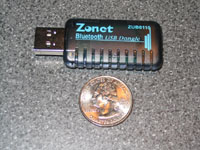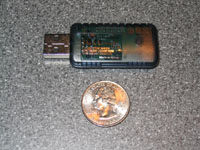 The physical installation of the ZUB6110 is quite simple... just plug it in. If you use a USB port adjacent to other connections (such as the Firewire port shown in the below left image), you may lose use of the other port due to the width of the ZUB6110's body. The ZUB6110 has a Blue LED, which is quite intense, and somewhat difficult to determine what it actually indicates. The LED is always blinking, even if no data is being transferred, no other Bluetooth device is in range, and on one test computer, even if the power is turned off... One PC has an issue where USB still receives power after shutdown, and the ZUB6110 continued to blink at its regular pace.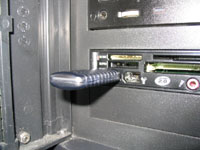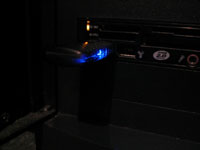 The physical installation is a no brainer, and the software is the interesting part...

Software:

The Quick Start Guide instructs you to install the software before connecting the dongle, so the review is technically going a little out of order. The installation launches automatically when the CD is placed in a drive, and the fairly standard "Welcome" shown in the below left image starts you on the way. A few screens into a fairly typical installation, you are presented with the screen shown in the below right image. I have seen plenty of driver signature notices, but thought I would share this one, as it was new to me...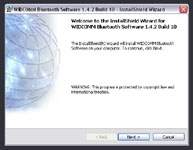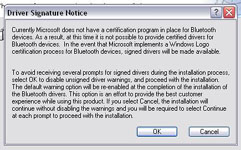 Please read on to the next page for more... Next

Page 1 | Page 2 | Home | Forum | Review Index | Page Views: