Arctic Cooling VGA Silencer Rev 2 - Page 1 of 2

Arctic Cooling claims their VGA Silencer "is designed for both Power Users and Zero Noise Environment equally." Lets see first how they go about this, and then if they succeeded.

First of all, many folks might not have heard of Arctic Cooling. Arctic Cooling is an ISO 9002 Certified design company out of Switzerland that has designed many products for cooling processors. This time around they have come up with a variable speed, rear air exiting, dual slot monster that looks like a winner. This is the Revision 2 of the VGA-Cooler and can be used on Radeon 9500, 9700, 9800, their PRO variations and All-In-Wonder series. The Rev. 1 Cooler was not compatible with the AIW variants. As of this writing the XT series of the cards listed above are also not supported. Arctic Cooling is also releasing a Revision 3 of the VGA-Cooler that will be compatible with the 9600 and all its variants including the 9600 XT. All revisions are compatible with Nvidia Geforce 3 Ti cards. More cards may be compatible and Arctic Cooling has a nice limits-of-use drawing available here.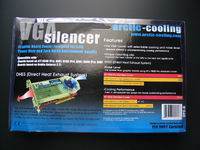 The VGA Silencer comes packed in a clear, bubble packed container and includes a half gram syringe of Arctic Cooling Silicon heatsink compound, a grounding plate, the dual slot replacement cover with a speed control switch, and the blue tensioning clip.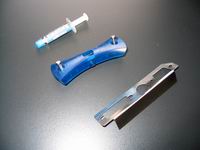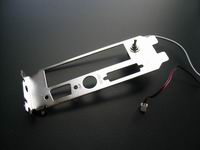 The instructions included are one of the best I have ever seen, full color pictures of the entire installation, well written, and complete. Looking around online I found the VGA Silencer priced anywhere from $13.95 to $17.95 (US), so the Jab-Tech price of $13.95 is definitely a bargain.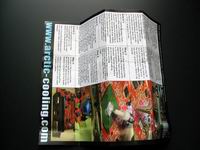 The VGA Silencer itself is a rather large combination of aluminum and a tough clear plastic. A blue, video card powered fan lives in a chamber at the end of the device and acts like a squirrel cage blower to cool the entire finned surface.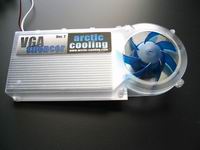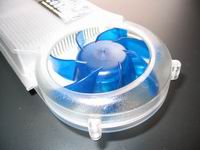 Internal case air is sucked into the heatsink and blown across the large surface area of the heatsink, the now hot air is exhausted out the back of the case through the dual port cover. Arctic Cooling calls this their DHES (Direct Heat Exhaust System). Not only is this a good idea in cooling your video card, but it should also lower internal case temperatures.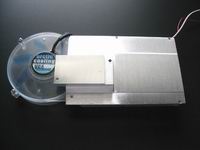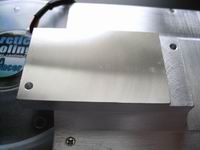 The back of the device is nicely machined and the actual die area is smooth and flat with only a hint of machine marks. The surface outside of the die contact area is also nicer than some cheap processor heatinks I have run across!!! This area has to be well thought out to avoid clearance issues with all of the things that protrude from the business side of the Radeon cards.

Installation: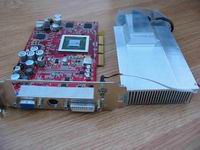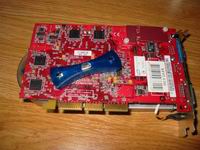 Installation is quite simple with the VGA Silencer. The directions are clear and concise and the pictures are good enough that reading is almost optional.

Please read on to the next page for more... Next

Page 1 | Page 2 | Home | Forum | Review Index | Page Views: