Thermaltake Big Water 12cm Liquid Cooling System - Page 1 of 3

It used to be that water cooling was left for the very hardcore overclockers. The thought of liquid running through a computer case scared many computer enthusiasts, including me. Thanks to companies like Thermaltake, water cooling is becoming much more mainstream. We are going to take a look at one water cooling solution offered by Thermaltake, the "Big Water 12cm Liquid Cooling System".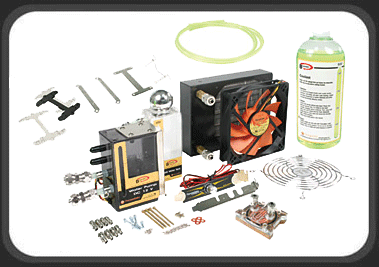 Thermaltake has been in business since 1999 and offers a variety of computer products including computer cases, power supplies, cooling products and accessories. In that short time they have built a good reputation for themselves for delivering quality products. So let's take a look at the Big Water Liquid Cooling System and see how it stacks up.

Packaging:

Thermaltake does a top notch job of packaging and shipping their products. The retail box is both sturdy and well packed, plus it is placed in a separate shipping box to protect it from any shipping damage.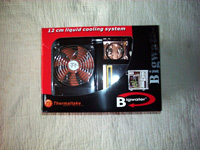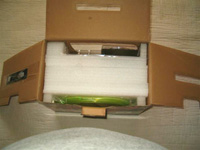 Contents:

This kit is very complete, and comes with everything required to set it up for use on an Intel P4 LGA 775, P4 Prescott, AMD K7 or K8 CPU. All hoses, screws, clamps, clips, and a fill bottle are included with the major components like the radiator, fan, fan speed controller, water block, pump/reservoir, coolant, and instruction manual. If you need it, it is in the kit.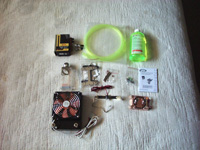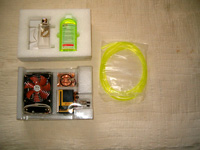 The following is the official list of features, as taken from the Thermaltake website:

• Universal 4 in 1 solution, compatible with Intel LGA775. P4 and AMD K7, K8 (Included AMD Sempron Series)
• 12cm Radiator: High performance radiator with 120x120x25 mm VR fan (1300~ 2400RPM)
• All copper Waterblock:
&nbsp&nbsp&nbsp (a). Copper waterblock with blue LED acrylic cover shining your CPU
&nbsp&nbsp&nbsp (b). Universal clips for Intel P4 socket 775, P4, AMD K8, AMD K7, easy to install
• All new Water Pump: Black powerful DC 12V water pump with blue LED
• Quick Install Connector: Saving your time to install device conveniently
• Water Tube: Transparent green pipes lighten your cool case
• Coolant: High performance coolant with functions of water quality steadying, water scale reducing, anti-freezing and anti-rusting
• Refill Water Tank: To refill water easily, also can be a back-up receiver

Detailed Specifications:

The following specifications for each of the three main components are from the Thermaltake website...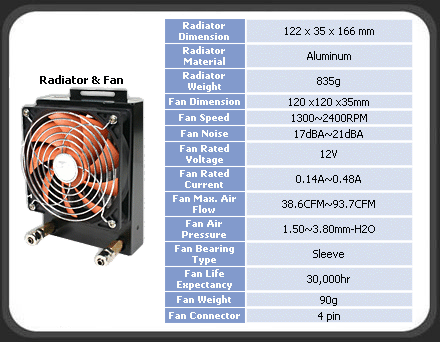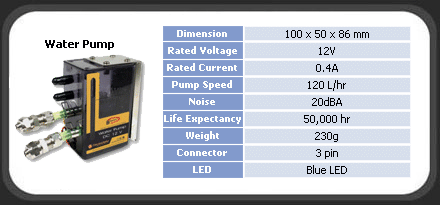 Please read on to the next page for more... Next

Page 1 | Page 2 | Page 3 | Home | Forum | Review Index | Page Views: