Thermaltake Polo 735 3-in-1 Cooler - Page 2 0f 2

Installation:

Installation was very simple but it did involve one extra step not seen in other Thermaltake models. Because this product is designed to work with a variety of processor types, it comes with three mounting mechanisms to suit your particular application. The user must manually install the desired mounting clip, but this only takes a short amount of time to successfully complete if you follow the printed instructions.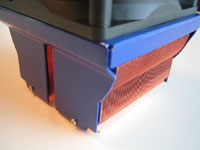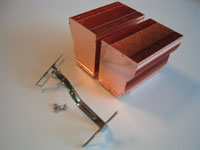 For this particular review we utilized the K7 mounting clip for our AMD XP2000+ processor. After a quick cleaning of the processor core and the heatsink base with 99% pure isopropyl alcohol, and a careful application of Artic Silver III thermal paste, the heatsink was ready to go. Note: Thermaltake includes some other thermal paste but for the sake of consistency we'll use ASIII so we can compare this heatsink to previous Thermaltake items we have reviewed in the past.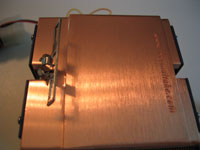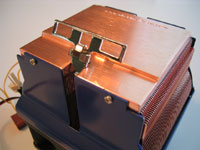 Test System:

The Polo 735 was tested in the following system... System Specs:

• AMD Athlon XP2000+ Processor
• ASUS A7V333-R Motherboard
• 1x Maxtor 60GB Hard disk
• 1x Optical device (cdrw)
• nVidia GeForce 4 Ti-4200 Videocard
• 2 PCI devices (NIC & soundcard)
• Antec Plus 1080 Server Case
• 6x 80mm case fans

To get a clear understanding of how well this heatsink worked we decided to test it at its high/low fan speeds (2,000 and 5,500RPM respectively) with temperatures taken at idle and full load. Load was simulated by running F@H4 (Folding At Home) for a period of one hour. Please note: All results were recorded in degrees Celsius, with a constant room temperature of 21 degrees C (70 degrees F) and with the side of the case open.

Performance and Results:

The graphs below summarize the results of the thermal testing.

First with the fan at high speed (5,500RPM)...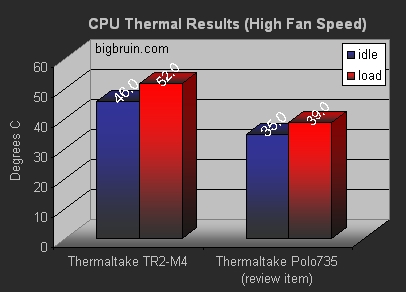 Then with the fan at low speed (2,000RPM)...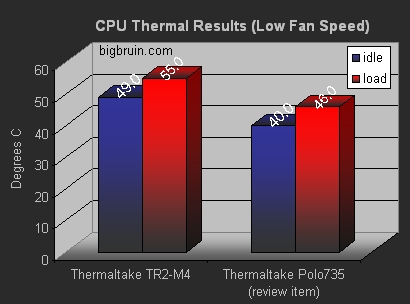 To say the least, the performance of the Thermaltake Polo 735 was impressive. Obviously the Polo 735 is a great improvement over one of Thermaltake's previous models (The TR2-M4, reviewed here). Temperatures are down at least 9 degrees C across the board, both idle and load temperatures when compared to the older model. As you can see in the graphs above, even at the lowest fan speed, the highest temperature the processor was ever exposed to was 46 degrees C at load. Now with all of this said, we do have to acknowledge our results could be slightly skewed. The brand of thermal paste, application, presence of dirt or other contaminants all can prevent heatsinks from showing their true results. This may be the case with the previously reviewed Thermaltake TR2-M4.

Conclusion:

This is an excellent heatsink package that performed better than expectations. If you're looking for a heatsink with multiple processor compatibility, competitive pricing, and multiple ways to control fan speed, this could be the heatsink for you. With a completely copper base, this cooler performs notably better than its predecessors. With the temperatures achieved during testing, we can even suggest this cooler for moderate overclocking, perfect for an enthusiast looking for that extra edge.

A quick search of the internet reveals that this device can be purchased for under $35 (US dollars, as of the date this review was published). A few sources you may want to investigate:

• TheNerds.net - $29.39
• Jab-Tech - $29.95
• Newegg - $32.99
• Zip Zoom Fly - $34.95

The Thermaltake Polo 735 CPU cooler earns 5 out of 5 stars. For the price, performance, and compatibility its hard not to give this product a great rating.

Final Rating (5 out of 5 stars):






Pros:

• Works with K7, K8, and P4 CPUs
• At low fan speed its inaudible but has good cooling results
• Thermal probe or rheobus options, what more can you ask for?
• Easy to follow instructions

Cons:

• Not totally polished, the contact surface could use a slight lapping
• Slight scratches were present on contact surface

Special thanks to Thermaltake for providing the Polo 735 3-in-1 Cooler to BigBruin.Com for review!

Please drop by the BigBruin.Com forum and feel free to discuss this review!

Page 1 | Page 2 | Home | Forum | Review Index