Thermaltake Polo 735 3-in-1 Cooler - Page 1 0f 2

Today we take a look at Thermaltake's latest heatsink, the Polo 735 Extreme 3 in 1 cooler. This cooler has a base made of entirely copper with a 80mm fan sitting atop. Designed for flexibility, the Polo 735 is compatible with K7, K8, and P4 processors. This product is unique because the fan can be controlled using either a rheobus or a thermal probe that automatically adjusts fan speed, keeping noise to a minimum.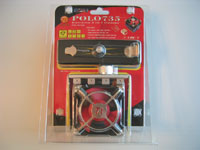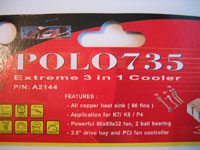 Company Profile (taken from Thermaltake website):

"Established in 1999, Thermaltake has quickly risen as a respected leader in computer thermal solutions technology. Thermaltake has increasingly enjoyed the adoption of its thermal strategies by OEM & ODM companies worldwide. Our engineering staff are masters of airflow analysis, material conductivity and efficiency design. Thermaltake's unweavering devotion to quality and customer satisfaction has earned its products the approval of computer enthusiasts everywhere.

Ever so, the technologies behind microprocessor design are becoming more effective in their intent -- increasing CPU speed and performance. As the user enjoys these new, higher-achieving processors, their increased frequencies generate massive amounts of heat. If this heat cannot be dissipated efficiently the system will fail to function properly and can eventually overheat. Heat is no longer a problem restricted to the CPU - video cards, the motherboard's core-logic chipset, system memory and even hard drives can no longer be neglected and must be considered when designing your very own cooling strategy.

As the size of transistors and semiconductors decrease, the smaller contact area on which to adhere cooling devices such as an active fan/heatsink will become the main challenge for every manufacturer. Thermal Management has become a critical PC concern and can no longer be ignored by anyone. Innovative design and quality of our products is what makes us the premier choice for all your thermal management needs -- today and tomorrow."

Product Specifications & Features:

As mentioned in the introduction, the Polo 735 is designed to work with K7, K8, and P4 processors - as the "3 in 1" name would imply. Thermaltake has included three different options for controlling the fan speed with this device. This allows users to merge performance with a noise-free environment. The first option for controlling the fan is to use an included thermal probe which automatically adjusts fan speed based on the processor's core temperature. The process is completely automated and doesn't require any work, but doesn't give enthusiasts any control either. To please this group Thermaltake includes two rheobus options. Both have the same functionality (allowing fan speeds from 2,000 rpm to 5,500 rpm). One of the units is a discrete PCI slot rheobus and the second is a more pronounced 3.5" floppy rheobus. Because they have the same functionality, the unit you use will all come down to personal preference.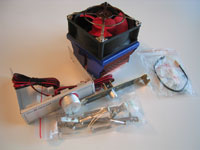 Specifications:

• Compatibility AMD Athlon XP up to 3400+
• AMD Athlon 64/Athlon 64 FX
• Intel Pentium 4 up to 3.2GHz
• Fan Dimension 80x80x32mm
• Rated Voltage 12V
• Rated Current 0.08-0.45A
• Fan Speed 2000-5500 +/- 10% RPM
• Max. Air Flow 26.50CFM at 20 degrees C
• 72.92CFM at 55 degrees C
• Noise 21-48dBA
• Bearing Type 2 Ball Bearing
• Life Expectation 80,000 Hours
• Power Connector 4 Pin
• Weight 732g

Quality:

Products manufactured by Thermaltake reviewed at BigBruin.Com in the past have been of satisfying quality. The Polo 735 however has a few noticeable improvements over older Thermaltake models (including the Thermaltake TR2-M4). The most obvious change is a base and fin combination entirely made of copper. The only complaint about the product quality are the hard-to-photograph light-scratches in the base of the heatsink. A simple heatsink lapping could solve these issues but Thermaltake should make a better effort to prevent such damage during the manufacturing and/or packaging process.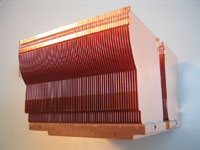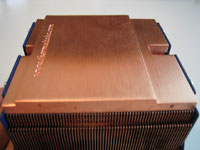 We should also mention both rheobus controllers included in this package have a nice fluid turning motion and work almost instantaneously.



Please read on to the next page for more... Next

Page 1 | Page 2 | Home | Forum | Review Index | Page Views: