Logisys Computer Pitbull 500W Power Supply Unit - Page 1 of 2

Just recently I had a 500W power supply that I had been using for the last three years give up and die on me. Being stuck, I went to an old back-up power supply, a 350W Enermax. When I first booted up, I received an error message that the video card wasn't receiving enough power, and was being scaled down until sufficient power was available. It seemed strange that I had never had this problem with my 500W power supply.

Considering that motherboards are now using two power connectors, video cards now need additional power connectors, and not to mention all the additional components, it's not surprising that today's computers simply need more than 350W to run everything effectively. I had been recommending to my friends and family that they needed a minimum of 400w to run the latest and greatest, but with SLI video cards beginning to hit the market, we should look to the future when buying any components. Logisys Computer presented me with a 500W power supply, their Pitbull. Let's see how this unit performs...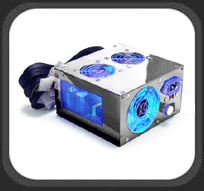 Specifications (taken from the Logisys Computer website):

"A power supply should be strong and reliable. Logisys Pitbull Power Supply brings out another new look in the power supply market. This mean 500W power supply comes with 3 ultra quiet fans. x2 40mm clear fans with x1 80mm LED fan with blue light up effects. x2 see thru windows on each side of the power supply with Mirror Chromed finished paint job on the body. Let's wrap this up with all the cables are sleeved in black. Replace your generic power supply with the new Logisys Computer Pitbull PSU."

Overview:

• Compliant W/P4&AMD
• Support Intel ATX 12V Ver.1.1&2.03 Standard
• (TRI-fans)x1 80mm LED fan, x2 40mm Clear fan
• x2 Acrylic See Through Window
• Mirror Chromed Finish
• Work with Always "ON" application
• Finger Guard for Safety purpose
• Comply with FCC requirements
• State of the Art Circuit Design and Clean PCB layout
• High Energy Power with Low Ripple

Physical Inspection:

Like most retail packaging, the unit comes in a brightly colored, sturdy box. On the outside of the box it gives you a brief description of the power supply. I rarely give packaging a second thought, since the quality of the power supply is more important. On the inside of the box, the power supply is wrapped in a bubble wrap bag that protects the unit in shipping. This seems to do the job, as the unit arrived undamaged. I would like to see more interior packaging though, as there was a lot of available movement space, but it is better protection than my Logisys Glacier arrived in. The only other thing inside the box is the power cable.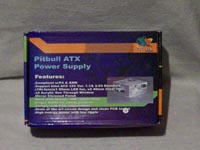 The unit I received is the silver version, and it is also available in a blue and black mirror finish. Here you can see the various sides of the power supply. The finish on this power supply is beautiful! One major drawback to a mirror finish is the fingerprints you are sure to leave on the unit. If you are showing off the power supply (it's not meant to be hidden), fingerprints and smudges will drive you up the wall. I was sure to polish it prior to installing it.

Let's take a closer look at the power supply.

On the back of the unit you can see both the standard and non-standard items. There is the ever popular power plug, a hard power switch, and a voltage switch. Along with the switches, you will also notice an 80mm crystal fan (blue LED fan), and a silver knob that is actually a fan controller for the rear 80mm fan. This is a nice option, but was a fault with the Logisys Glacier power supply. I'm happy to report that after using this power supply for a week, turning the speed up and down several times a day, from low to high speed (and everywhere in between), the fan controller is still functioning! This is an improvement over the issues I experienced with the Glacier. On a side note, I have to mention that the Glacier I received could have been faulty to begin with as others have not experienced the issues I did.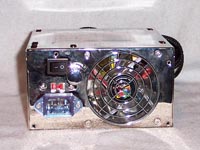 What is the point of having an LED fan if it doesn't light the inside of your case a little? This power supply offers two side windows that allow you to see the inside of the power supply without removing the cover, and allows some of the light from the LED fan to shine in.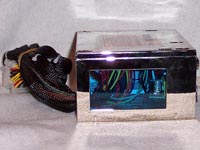 Turning the power supply to the bottom, you will find two 40mm fans. The rear fan is a blue LED, (it would be nice if the 40mm fans were blue LED's as well). Instead of blue LED's, these are just plain 40mm fans. They pull air in from your case, across the internal components of the power supply. This design must do its job very well, as the air coming out of the back of the case was slightly over room temperature even on its lowest setting.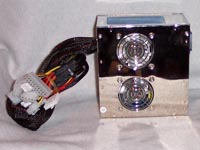 Cracking the case (which will void any warranty) you can see the 40mm fans. They are standard units, and can be replaced. One thing that Logisys has done is wrap the 40mm fan cables in a clear plastic tube. This was a nice touch, as it helps protect the cables from touching hot components and causing issues. Finally, they put glue on the fan connectors, which will keep the connectors from coming apart.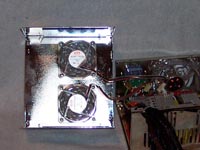 While the cover is off the power supply, let's see what it's made up of. There are two good heat sinks that draw any heat off the components. The 40mm fans blow directly on these, and the rear 80mm fan draws heat out away from the components. Everything else is pretty standard.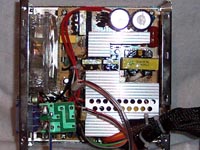 Finally, let's look at the cable connectors. They did a great job at wrapping the bulk of the cables, but they stop at the first 4 pin Molex connector. All of the cables are of sufficient length to reach any place in my Antec full tower case, and are easily routed to hide the extra cables. You get many of the standard connectors, 20 pin and 4 pin power connectors, and an AUX connector, all on individually wrapped cable strands. There are two other wrapped cables that include four 4 pin Molex and 1 Floppy connector. It would have been nice to have at least one 4 pin Molex on a separate cable for video cards. One negative aspect of this unit is that there is an important connector missing, SATA. While SATA is a fairly new standard, and there are 4 pin Molex to SATA converters, it would be nice to have them included on this power supply.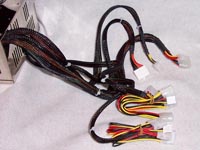 Please read on to the next page for more... Next

Page 1 | Page 2 | Home | Forum | Review Index | Page Views: