Logisys Glacier Dual LED Fan 500W Power Supply - Page 1 of 2

Whether itís that sweet new video card or the killer surround sound card you just bought, every piece of equipment added to your computer increases the need for additional power. Most computers can get away with only having a small 350W power supply, but having extra power is never a bad thing. Aside from the strength of the power supply, the next most important features are the quality and stability of the power output. After estimating the maximum peak output of each of my components, I determined that at a minimum I needed to have a high quality 400W power supply. The 500W Logisys Glacier Dual LED fan power supply is up on the test bench today, so letís see how it holds up against a 320W Enermax and a 420W Raidmax power supply.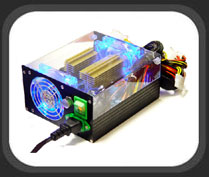 Power Supply Features / Specifications:

The shell is composed of 50% acrylic and 50% aluminum. It offers two blue LED fans on both ends to keep cool air flowing into the unit. There is a chrome knob that allows you to adjust the speed of the fans so that you can decide which is more important to you...a cool PSU or a quiet PSU. In either case, you are getting a powerful PSU that will last you and your devices quite a while.

Specifications:

ē Support Intel ATX 12V Ver. 1.1&2.03 Standard
ē Compatible with AMD Athlon K7
ē Dual LED fans for cooling improvement and efficiency
ē Work with always "ON" application
ē Chromed knob to adjust the fan speed and thermal degree
ē Finger guard for safety purpose
ē Comply with FCC requirements
ē State of the art circuit design and clean PCB layout
ē Good for home and office use
ē High energy power with low ripple
ē Short circuit and overload protection on all outputs

Packaging:

The packaging for this power supply is pretty standard: a brightly colored, sturdy box that details itís specifications. The box doesnít give you anything really specific about the power supply; it lists the same specifications that are listed above. There is no other additional information included on the outside of the box that would allow you to compare and contrast this power supply to others if you were trying to make a decision at a retail store.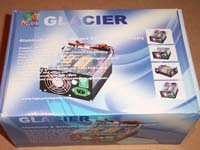 The included accessories arenít much. It comes with a power cable, and thatís it. No screws to mount it, and no installation manual. Granted most of us have tons of screws lying around and we donít need a manual, but if you are putting together a new system, all required parts should be supplied.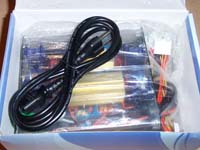 The entire power supply was wrapped in a plastic bag, and a plastic sheet then covered the acrylic. Itís easy to remove, and came off in one piece so there werenít any little pieces to struggle to get off.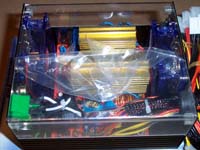 Physical Features:

Looking through the acrylic you can see the components. There are two well-placed heat sinks between the fans to help dissipate the heat. One fan blows across them, and pushes the heath into the other fan that blows it out of the case. This is a great design that really helps keep it running cool!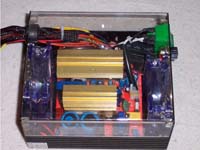 On the back of the case youíre presented with the standard options. A hard on/off switch, the power cable plug, a silver fan speed control knob and a fan wire grill. What surprised me is the on/off switch glows when the power is off, so you can easily find it in the dark. Also, the switch is rather large, which makes it easy to locate if you donít have access to the back of your computer.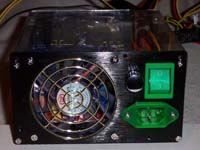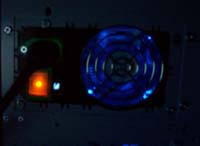 The silver control knob on the back of the Logisys Glacier power supply controls the speed of the two fans. This allows you to either have a high performance, but (slightly) louder power supply, or standard performance and relatively quiet power supply. This is a nice feature; however I would prefer that the speed adjust itself automatically, or by an external controller. Placing the control knob in the back of the power supply makes it a little difficult to reach.

Unfortunately the control knob was not very reliable; it only worked for about an hour. During that hour, I was able to adjust the speed of the fans (and the brightness of the fan LEDs). Shortly thereafter, I needed to leave the room so I turned the fans down to the middle speed. When I came back, the fans were off. I thought maybe the power supply turns them off if they arenít needed, so I turned the control knob to the full speed, and they came back on. The air that came out of them was extremely warm! After the fan ran for 15 minutes, the air cooled down to a normal cool temperature. I adjusted the control knob back to the middle position, and sadly when I turned it down the fans totally stopped again. Since then, I have tried adjusting them several times and each time the fans stop when I turn the control knob just a little. This is a major problem.



Fans on High&nbsp&nbsp&nbsp&nbsp&nbsp&nbsp&nbsp&nbsp&nbsp&nbsp&nbsp&nbspFans on Low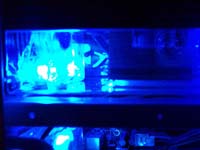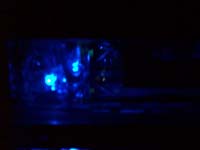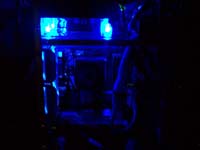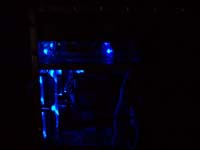 Please read on to the next page for more... Next

Page 1 | Page 2 | Home | Forum | Review Index | Page Views: