Enermax UC-9AFATR2 Multi Function Panel - Page 1 of 2

Today just about every computer user wants more and easier access to USB, Firewire and other connections. Having to reach around to the back of the case is just not convenient. There are lots of accessories out there to offer you just this and more. The good people at Maxpoint were kind enough to supply us with an Enermax UC-9AFATR2 Multi Function Panel packed with 18 functions that we will be looking at today.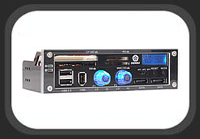 First, a little bit about Enermax. Enermax Technology Corporation was founded in 1990 by a group of young, professional, high-tech oriented people in Taiwan. The Enermax founders left high-profile positions from prestigious computer firms, bringing over 10 years of professional experiences to Enermax. The main products they carry are switching power supplies, PC cases, industrial PC cases, pedestal and tower server cases, CPU coolers, second fans, mobile racks and other peripherals. Enermax has its own design groups and production line.

On to the Multi Function Panel and what all you get.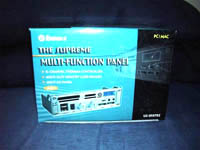 The Panel and all the goodies come very well packed in foam protection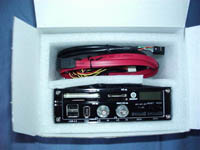 As you can see in the picture below the Panel comes with the cables, screws, wire ties, labels, instruction manual, mini driver disk, and a back pass thru plate. Everything you will need to complete the installation of the Multi Function Panel.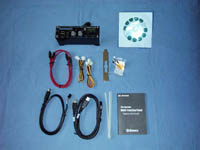 Features:

• Quality coating design, suitable for 5.25" bay
• Thermal controller: 2 fan RPM & Temperature display
• 2 adjustable fan speed knobs overheat & low RPM fan alarm
• 3 level of overheat temperature setting
• Multi-slot memory card reader/writer
• I/O interface including USB 2.0, IEEE 1394, Serial ATA
• Available in black or silver

Specifications:

• Model - UC-9FATR2
• DC Input - +5V, +12V,USB bus power
• LCD Dimension - 28x11 mm
• Range of RPM - 1000-9900 RPM
• 3Pin Fan Connector - 2
• Fan RPM Knob - 2
• Memory card type - CF type I/II, Micro drive, MS, MS PRO, MS DUO PRO, MS DUO, SD, MMC, SM
• Interface of reader - USB 2.0
• OS - Win 98SE/Me/2000/XP, Mac OS 8.6+
• Dimensions - D72x W149xH41.5 mm

The panel comes in either black or silver... Our test model came in black. Initial observations confirm the panel looks very well made, and is very appealing to the eye. Enermax has managed to pack 18 functions into this panel that fits into a 5.25" drive bay. There are two temperature probes that can read in either Fahrenheit or Celsius. They have also fit in two USB 2.0 connectors, one 1394 Firewire, two SATA connections, two fan speed controllers, and four slots that combined read 10 different types of flash memory cards. In addition there are two alarms each for low fan speed and high temperature readings. The LCD for the temperature and fan RPM is back lit in blue and easy to read. The two fan speed control knobs are also very brightly lit in blue matching the LCD.

Please read on to the next page for more... Next.

Page 1 | Page 2 | Home | Forum | Review Index | Page Views: