Crucial Ballistix 512MB Low Latency PC3200 DDR - Page 1 of 3

The Crucial name has become synonymous with high quality system memory, as well as a prime source for flash memory products and Radeon chipset video cards. Although their system memory has always been top notch for reliability and mainstream performance, one thing the Crucial memory line up was missing was something to appeal to the overclockers and high performance enthusiasts out there.

An interview conducted with a Crucial representative just last year made it clear that, at that time, Crucial had no plans to launch any memory products outside the JEDEC standards, that included heat spreaders, or in any way promoted overclocking. How things have changed in such a short period of time, and am I glad to see they adjusted their stance on these issues.

The Ballistix line of DDR and DDR2 memory brings Crucial's reputation for high quality system memory into the enthusiasts arena, and the initial offerings jump right in at full speed. The DDR2 modules are available in DDR2-533 and DDR2-667 speeds, while the DDR modules are available in DDR-500 and low latency DDR-400 speeds, all in sizes of 256MB and 512MB. Up for review today is a pair of 512MB sticks of the low latency DDR-400, providing 1024MB of dual channel DDR muscle.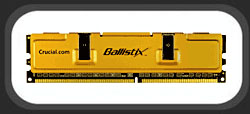 The photo above provides a quick look at the new image of Crucial memory, and the published specifications listed below provide some detail on the performance that backs up the sharp looks.

Module Specifications:

• Module Size: 512MB
• Package: Ballistix 184-pin DIMM
• Feature: DDR PC3200
• Configuration: 64Meg x 64
• DIMM Type:
• Error Checking: Non-parity
• Speed: DDR400
• Voltage: 2.8V
• Memory Timings: CL=2

From the specifications it can be seen that the memory is designed to operate at a relatively high voltage of 2.8V. Most motherboards today can support this, but owner's of older boards may need a BIOS flash or have to try their luck at lower voltages. To be honest, I was able to run the 2 sticks of Ballistix DDR at stock speed and aggressive timings, even with the voltage set to 2.6V in the BIOS. And, speaking of timings, all we see in the published specifications is the CL=2 figure. The complete string of published timing information is quite impressive... 2-6-2-2 (CAS latency, Act to precharge delay, RAS to CAS delay, and RAS precharge respectively).

When Crucial first offered DDR-400 over a year ago they had to rely on Samsung chips for a brief period as manufacturing (Micron) got up to speed, pun intended. The new Ballistix line of DDR is based on high performance Micron chips right out of the gate.

Published specifications are great for getting an idea of what to expect, but lets get down to the real world information on this memory...

Physical Features:

The Ballistix come packed just as does any other Crucial memory product... In the familiar white boxes as shown in the below left image. The below right image shows the contents of the two boxes shipped inside of a FedEx pouch... The memory modules in sealed anti-static bags, installation guides, and some Ballistix stickers to slap on your PC, car, etc...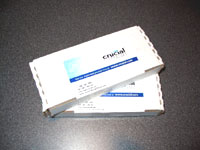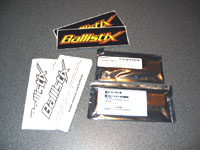 Out of the bags, the Ballistix modules don't look like any memory I have seen from Crucial before. Shrouded in copper colored (but aluminum constructed) heat spreaders, the modules sport a black PCB. There is nothing revolutionary in the design of the heat spreaders, as they seem to be the type that has been available from other manufacturers and in after market upgrade kits for years. But, the combo of the black PCB and copper colored spreader is sharp.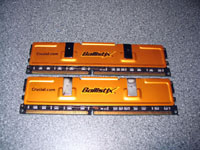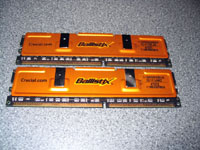 Either side of the heat spreader features the Crucial URL and Ballistix logo, with one side of each module also featuring a bar code with a batch number and part number.

The image below may not do it justice, but the intent is to show that the heat spreader is well affixed to the chips on these dual sided modules. In the past, I have been disappointed to see the adhesive on other manufacturer's heat spreaders hanging out in mid air, not making contact with the chips they were supposed to be cooling. Whether you believe heat spreaders are necessary or not, you have to agree they can't do any good if they don't make solid contact with the chips, so I am glad Crucial passed that little test.



Installation:

The two 512MB modules were installed in a dual channel DDR setup in a system with the following components:

• Pentium 4 2.6C processor
• Abit IS7-G i865PE motherboard (BIOS 20)
• (2) Seagate 80GB S-ATA hard drives in RAID-1
• Gigabyte Radeon 9600XT AGP card (Catalyst 4.7 drivers)
• Windows XP Professional (SP2)

With the two 512MB modules installed, the system was booted and I entered the BIOS. Memory settings were initially set to "SPD" which identified the memory as being 200MHz with timings of 2.5-8-2-2. I left the timings alone, and with the voltage set to 2.6V booted into Windows for an initial set of tests. Everything worked fine at these speeds, so I rebooted and manually set the timings to 2-6-2-2, but left the voltage at 2.6V. Again, all tests indicated that these sticks could operate at the more aggressive timings, but at a voltage less than specified. In preparation for the initial round of serious testing I kept the timings at 2-6-2-2 and upped the voltage to 2.8V. Time to get to work!

Please read on to the next page for more... Next

Page 1 | Page 2 | Page 3 | Home | Forum | Review Index | Page Views: