Crucial Ballistix 512MB Low Latency PC3200 DDR - Page 2 of 3

Overclocking:

As a part of the testing and benchmarking, one of the major interests was overclocking. Crucial memory was never known for overclocking, and the Ballistix line is here to change that. While maintaining tight timings, I was able to run these DDR-400 chips up to DDR-480 with zero stability issues on the test system referenced previously. Systems with a CPU and motherboard combination with greater overclocking potential may experience better results, but for a pair of 512MB sticks of DDR-400, that is still quite impressive. Other performance DDR (256MB GeiL sticks) I have used in reviews can only hit DDR-450 speeds, so I am quite pleased with the performance of the Crucial Ballistix.

At 200 MHz, the timings on the Ballistix DDR were the afore mentioned 2-6-2-2, at 220 MHz I had to relax them slightly to 2.5-6-2-2, and at 240 MHz they were run at an impressive 2.5-8-2-2. Beyond 240 MHz I experienced various errors before, and once into Windows, no matter what combination of timings, voltages, and other BIOS settings I tried. With the ceiling established, I moved on to benchmarking these modules against an admirable opponent...

Benchmarking:

The two 512MB sticks of Crucial Ballistix DDR-400 were tested head-to-head against two 512MB sticks of Corsair TwinX1024-4000Pro DDR-500 memory. Although other DDR-400 modules were available for comparison, they were all 256MB modules, and I wanted to pit the 1024MB of Ballistix memory against the proven performance of the 1024MB from Corsair.

In the review of the Corsair DDR, a top speed higher than the Ballistix was capable off was achieved, but based on the speed ratings one would hope so. The competition in this review will be based on the limitations of the Ballistix DDR, and will therefore peak at 240 MHz. I have already mentioned the timings that the Ballistix was set to for each speed, and I provided the fastest timings to the Corsair as well, which corresponded to the following: 200 MHz: 2-6-3-3, 220 MHz: 3-7-4-4, 240 MHz: 3-7-4-4.

Each pair of memory modules was installed in the test system referenced previously and run through the following benchmarks at speeds of 200 MHz, 220 MHz, and 240 MHz, with a reboot between each test:

• SiSoft Sandra Pro 2004 Memory Benchmark (Integer)
• SiSoft Sandra Pro 2004 Memory Benchmark (Float)
• CPUID's PC Wizard Ram Benchmark
• Futuremark's PC Mark 2002 Memory Benchmark
• Futuremark's PC Mark 04 System Benchmark
• Futuremark's 3D Mark 2003 Video Benchmark

SiSoft Sandra is diagnostic suite that provides a commonly referenced memory benchmark. There are two components to the benchmark that obtain their results by reading/writing large chunks of data to memory. With units of MB/s, the results of the "Integer" portion of the benchmark are displayed below and show the Ballistix beating the Corsair DDR by a higher margin each time the speed was increased.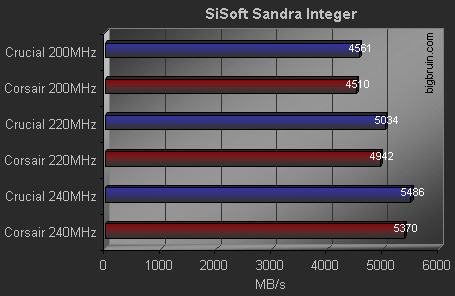 Again with units of MB/s, the results of the "Float" portion of the Sisoft Sandra benchmark are displayed below and show the Ballistix again beating the Corsair DDR across the board.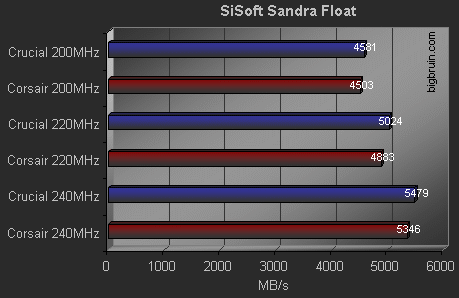 PC Wizard's Ram Benchmark is not particularly familiar to me, but I thought I would give it a shot to see what it had to say about the DDR match up. Just as the Sandra bench does, it reads/writes data to memory and provides results in units of MB/s. As you can see in the chart below, the results were much closer than in the Sandra benchmark, and at two speeds the Corsair actually eeked out small victories.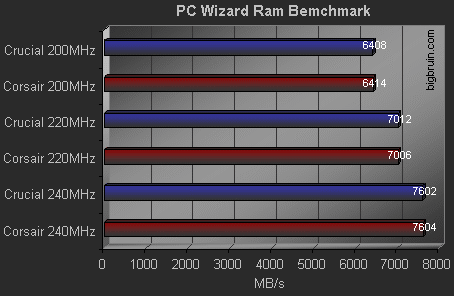 Please read on to the next page for more... Next

Page 1 | Page 2 | Page 3 | Home | Forum | Review Index