The Basics (continued):
On to the back of the monitor we see the inputs; HDMI, DVI, VGA, and a spot for audio input and output. It was refreshing to see an HDMI monitor with DVI as well, since many other HDMI monitors only allow for a VGA input. This set up is perfect for me as I can connect an Xbox 360 via HDMI and my computer by means of DVI.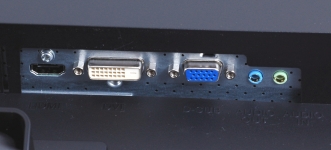 Also on the back is where we get an up close and personal picture of the manufacturer's data/serial sticker. Your monitor control buttons are located on the right side. Any adjustment you may want to toy with can be done from here, even volume as this monitor has built in speakers.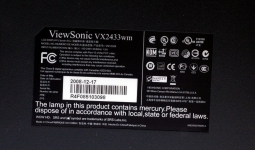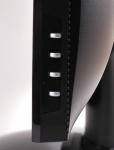 In Use:
With the pleasantries out of the way it is time to put this monitor to use and see what it can do. As mentioned before, my set up includes connecting my Xbox 360 via HDMI while the computer will be connected to the DVI input. Upon powering up I did my usual close inspection for dead pixels and unfortunately found one. I was lucky in the fact that the pixel lies at the very top left of the monitor and during use was not noticeable.


I found the image to be great without any need for adjustments. The contrast, brightness, and color were all where they needed to be without any tedious alterations. The base allowed for the proper tilt while giving it a sturdy feel. I have had monitors in the past that wobbled at the slightest bump or movement so it is always a good thing to see a firm sturdy build.
With a digital resolution of 1920x1080, and a nice response time of 2ms, every day applications and Internet surfing looked great. The most notable difference going from my 1680x1050 resolution was of course when gaming. Keep in mind when jumping up in resolution ensure your system can handle the same level of eye candy at higher resolutions. It would be a travesty to increase your resolution only to reduce detail settings to allow for playable frame rates.
Visually this ViewSonic monitor is great, other than the dead pixel I found nothing to complain about. The Achilles heel however lies in the speakers. The speakers in my opinion were of low quality and provided little sound. In fact you have to turn the volume up close to the max just to really get anything out of them. Nothing you would want for gaming or watching movies, that's for sure.