Conclusion:
The
ASUS
Cine5 5-channel PC speaker has quite a few things going for it. First and foremost, it's footprint is significantly smaller than a traditional 5.1 speaker system so you don't need to plan out where you are going to fit all the pieces. If you are using it at your desk it should fit nicely right under your widescreen LCD monitor, and the sleek style will have it looking right at home at the same time.


Having spent a few weeks with it exclusively, I'm just about ready to ditch my old 5.1 solution and clear out some much needed desk space. Everything you plug into it sounds great. We used everything from a laptop to an iPod, and the clarity was fabulous. While there is no dedicated bass, you might almost get used to not having it. The audio quality from the other 5 speakers compensate for those lacking low thumps, and if you place the Cine5 right in front of your keyboard (and crank it up a bit) you can still feel the music - or gun fire.
The ASUS Cine5 5-channel PC speaker is currently available from popular places like
Buy.com
and
Newegg.com
for $129.99, where you get an added bonus of free shipping. While you could obviously pay more for a good set of surround sound PC speakers, compared to other decent quality 5.1 sets out there, the price is on the high side.
Additionally, the ASUS XONAR D2X PCI express sound card featured in this review is available for
$179.99 at Newegg.com
.
For the audio capabilities squeezed into such a compact and attractive housing, we give the ASUS Cine5 5-channel PC speaker the Bigbruin.com "Great Idea" award. If ASUS has been able to fit a sub-woofer in this package, we would have most certainly also included the "Highly Recommended" award.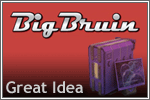 Pros:
» Compact unit that delivers high-end sound
» Extremely simple to setup
» Up-converts 2-channel audio to 5.1 surround sound
» Sound clarity and quality of speakers costing twice as much and more
» Includes two sets of mounting feet to better meet different tastes
Cons:
» No sub-woofer or expansion possibilities for one
» No optical out option for use with home theater PC systems
» Priced slightly higher than mid-range 5.1 speakers sets
Please drop by the Bigbruin.com Forum and feel free to post any
comments or questions
.