Packaging and Accessories:
The
ASUS
Cine5 5-channel PC speaker showed up in a snazzy black box with a pop-up carrying handle. The artwork alone would surely draw the consumer right in for a second look. The below left image shows the front of the retail box with a rendering of the speaker itself taking up a good bit of the front of the packaging. A few quick bullets of information round out the facade. The image on the right shows you the back of the package, laying out the specifications in just about every language conceivable.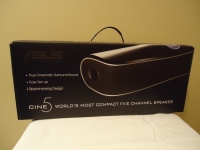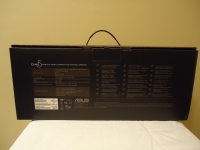 The next set of images show the sides of the box. The left side of the box gives us a general idea of the size of the unit in relation to a keyboard and monitor and the ports available on it. The right side is more of an illustration describing how the unit replicates sound similar to an actual 5 speaker setup.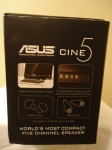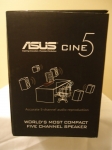 Once we crack the top on the box, we can see that ASUS has taken great care in wrapping the Cine5 speaker in protective foam. All of the other accessories are hidden behind a cardboard flap for added protection.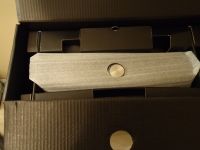 Opening the flap and getting into the protective compartment, we find the accessories. In the image on the left, we have the "5.1 channel audio cable", the power cable, and the AC power adapter. The image on the right shows you the two different options for feet. On the left you have a set of very plain, but very heavy duty rubber feet which simply pop right into the holes on the bottom of the unit to help with any possible vibration. Inside the black, padded cardboard box, we have some very nice tapered metal feet. These feet have a rubber tip to also help with vibration but are much more elegant and are a really nice upgrade from the rubber feet, especially if you're using this with a higher end audio system or as a stand-alone speaker for an MP3 player. Kudos to ASUS for including these - they add a really nice touch.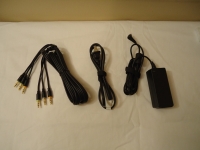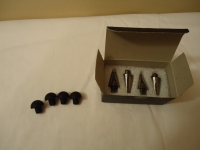 Lastly, we have the Quick Start Guide. When I first saw the size of this I was a bit confused. How could something so seemingly simple have a manual that's a half an inch thick? As it turns out, the manual has illustrated instructions for 21 different languages - the same 21 languages that are printed on the back of the box.