So maybe after reading the first two reviews in this series (
one
/
two
) you have decided home automation is not for you; in my opinion that would be a mistake. That said, I can understand the apprehension some may have about messing with their electrical system, so what if you could achieve much of the same functionality by simply plugging something in?


Again Jasco delivers with the Z-Wave GE 12718 Plug In Smart Dimmer. This is a super simple device, and as with the others covered so far, this one is designed for indoor 120V 60Hz use though they do offer an outdoor version. It is rated for 300W incandescent, 100W CFL/LED or 1500W 12.5A resistive load. Operating temperatures are the same as other the devices at 32-104F (0-40C). It has one Z-Wave outlet with a claimed 100 foot range and one un-switched outlet which is also rated for 1800W resistive load. This device is UL listed and comes with a 2 year warranty.
Packaging and Accessories:
This device too is packaged in the now familiar box with a green stripe indicating it is designed for Z-Wave. On the front it shows a picture of the device while the sides indicate common hubs it works with as well as what types of bulbs it works with. The back as with other devices shows some common features/uses for the device. Lifting the lid you will find the Smart Home Guide and manual with the smart dimmer neatly held in position by cardboard.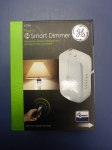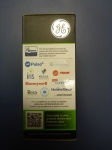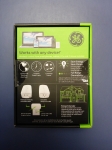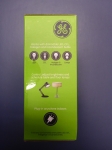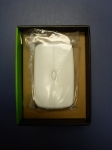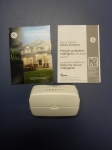 The Basics:
As you can see in the pictures below this GE Plug In Smart Dimmer is rectangular in shape with an oval button on the front. This button is for manual control of the Z-Wave controlled outlet and for programming. On the left side is a polarized Z-Wave controlled outlet and on the right side is a standard polarized grounded outlet. One would think the inclusion of an additional outlet means this device takes up both outlets but that is not the case. This dimmer allows you to have (1) Z-Wave controlled outlet and (2) standard outlets from your typical duplex outlet.