Bigbruin.com has published reviews of several laptop stands over the years, and most follow the same basic design of having a platform for the laptop to sit on. Many incorporate things such as cooling fans, USB hubs, or card readers to increase the functionality of the stand, but none have been anywhere to close to as compact as the one to be covered today. While this one doesn't do much more than elevate the back of the laptop off of your desktop, it won't drain your battery or taken up much space in your laptop bag (or pant's pocket for that matter). The Latosta portable laptop stand from
Starlight Creations
is a no frills, no nonsense device intended to let people use their laptop computers in a more ergonomic position, which might also offer lower operating temperatures without active cooling.
The image above shows an overview of the Latosta portable laptop stand, where it can be seen that it isn't much more than a pair of S-shaped pieces of steel. Before getting into the heart of the review, let's take a look at some of the features and specifications found on the
description page
at Lightlaptopstands.com.
Features and Specifications:
» Most portable laptop stand:
» Super lightweight at only 2 oz.
» Small enough to fit into a shirt pocket (4 1/2" x 2" x 1/4")
» Improved Laptop Ergonomics:
» Lifts the display screen for reduced neck strain
» Tilts the keyboard for improved wrist position
» Completely stable on the stand
» Increases air circulation to promote laptop cooling
» Passive laptop cooling does not drain your laptop batteries
» Improving laptop cooling increases battery life
» Minimalist stainless steel design
» 5 year warranty against failure in normal use
» 30 day satisfaction guarantee
» Made in USA
» Patent Pending
Packaging:
Because the Latosta portable laptop stand is so compact, there isn't much required in terms of packaging. The review sample was shipped cross country in a small padded envelope for a mere $1.51. What might be considered the retail packaging for the laptop stand consists of a small zippered plastic bag with a paper insert that provides a few images and details about the product.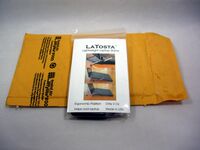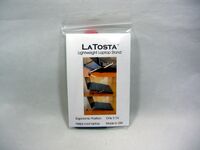 The Basics:
The image below shows everything included with the Latosta portable laptop stand. There is some product information printed on the back of the package's insert, the two stainless steel S-shaped brackets, and a spare set of rubber end caps. The side of the S-shaped bracket with the long black rubber end caps is what will sit on your desktop, while the side with the smaller end caps will be resting on top of the laptop's keyboard area. Red colored top end caps come pre-installed, but you can simply pop them off to use the black ones if you so desire.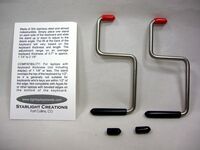 That is it... there is nothing else involved. So simple, yet rather smart at the same time.