StarTech.com TV Jockey - Page 1 of 3

StarTech.com may not be a household name, but they offer a wide selection of products that help them back up the assertion that they are "the computer professionals' source for hard-to-find computer parts". From cables and wires, to power supplies and networking components, Startech.com has "assembled the most comprehensive selection of parts and related information you'll find from any ISO 9001 Registered manufacturer. You can rest easy knowing that StarTech.com has the products and expertise you need to complete your solution, allowing you to rely on one trusted partner instead of a multitude of faceless vendors. StarTech.com can also provide you with free qualified customer referrals to help you grow your business. We are currently the leading supplier of customer referrals to some of the industry's top computer product resellers."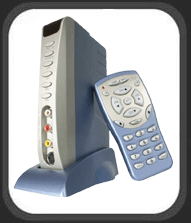 Up for review today is the TV Jockey, offered by StarTech.com. The TV Jockey allows you to watch television broadcast programs (whether over the air broadcasts or cable) on your computer monitor without the need for a separate Television (or TV tuner card). But it's so much more than this… it also allows you to watch DVDs & VCR tapes from set top units. You can even plug in your PlayStation or GameCube directly to the TV Jockey, and play on your computer monitor.

What StarTech.com says about the TV Jockey (taken from their site):

Applications and Solutions:

• Eliminates the need to buy a TV – save money and space by watching TV on your monitor
• Connects commercial game consoles (PlayStation® 2, Nintendo GAMECUBE™, Xbox®, Dreamcast™) plus VCRs, DVD players and camcorders to your computer monitor
• Transforms your computer system into a powerful multimedia unit by centralizing all your AV devices in one location

Features:

• 6 front panel push button commands
• Audio stereo output for direct speaker connections
• Auto-Scanning function detects available Broadcast and Cable TV channels
• Includes full function remote control for switching display mode, change channels, adjust volume and more
• Includes stand for upright positioning
• Includes stereo cable for quick connection to computer sound card
• One-button PC/TV display switching
• OSD (On Screen Display) option
• Supports resolutions up to 640 x 480 @ 60 Hz

Specifications:

• Color: Blue
• Connector Types:
&nbsp&nbsp• 2 - High Density 15 pin Female
&nbsp&nbsp• 3 - RCA Female
&nbsp&nbsp• 1 - Phono 35 mm Female
&nbsp&nbsp• 1 - S-Video Female
• Input Voltage: 12 Volts
• Maximum Video Resolutions: 640 x 480
• Power Adapter Output Voltage: DC 12 Volts
• Safety Standards Europe: CE
• Safety Standards North America: FCC
• Shipping (Package) Weight: 2.16 lb [0.98 kg]
• Connectors:
&nbsp&nbsp• VGA Input: 15 pin HD-DB Female
&nbsp&nbsp• Audio Input: RCA Audio Male
&nbsp&nbsp• Antenna Input: 75 ohms Coaxial TV Antenna/Cable
&nbsp&nbsp• VGA Output: 15 pin HD-DB Female
&nbsp&nbsp• Audio Output: 3.5mm Audio Cable
• Power: DC 12V
• Supported Formats: NTSC & PAL
• Supported Channels: NTSC: 181 channels / PAL: 106 channels
• Resolution: PC: 640 x 480 Pixels / NTSC: 858 x 525 Pixels / PAL: 864 x 625 Pixels
• Remote Control: 24 - Key IR (Infrared) Remote Control

The Basics:

The TV Jockey arrived in good shape and the foto's below show the box to be a somewhat plain but informative design. The front (below left) gives a glimpse of what's inside, while the back (below right) detail the Features, Specifications and how simple it is to install.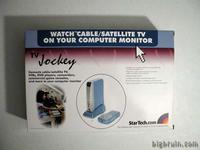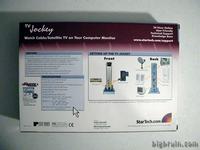 The packaging is compartmentalized, insuring a safe & secure delivery to you.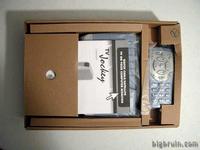 The items included with the TV Jockey are: TV Jockey with vertical stand, 8 page instruction booklet (English only), power adaptor, Remote control, 15 pin cable, speaker cable & 2 AA batteries.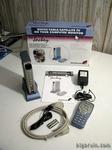 Please read on to the next page for more... Next

Page 1 | Page 2 | Page 3 | Home | Forum | Review Index | Page Views: