Any competitive gamer can appreciate the value of a high quality mouse pad. Gamers expect a smooth surface that tracks well, a large area for movement, and in the event of a LAN party, a pad that is portable. Many of the cheaper mouse pads you can pickup at a local store lack most of these important qualities. The pads are not designed for optical mice, which require a special texture to efficiently track.
XTracPads
promises to address these needs with their XTrac Ripper optical mouse pad.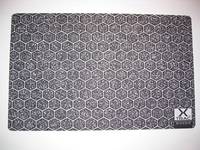 Company Profile (taken from the XTracPads site):
"Started in March of 2002 by a small group of avid PC game enthusiasts, our optical mouse pads and accessories are designed for fast paced mouse movement with minimal drag. We offer a variety of surfaces and optical mouse pad sizes. Not only are our products used in computer gaming, they are equally efficient for many other applications such as digital animation, desktop publishing and more. The medical, military, gaming, art, scientific and aerospace industries all benefit from the high quality, speed and accuracy found in all XTrac optical mouse pads. XTracPads is headquartered in Salt Lake City, Utah."
Product Specifications:
XTrac Ripper:
» Size: 11" x 17"
» Thickness: 1/8"
» Surface: cloth (flexible)
» Pattern: hexagons
» Backing: sure grip rubber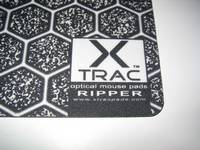 XTrac Eels (mouse feet):
» Length: approx. 5"
» Surface: semi-teflon coated transparent tape
» Durability: last 5-6 months