Corsair
does one thing, and they do it extremely well… Memory. From their OEM replacement line right up through the enthusiast's XMS, XMS Pro (with LED indicators), and XMS Xpert (with alphanumeric displays) memory, you can count on Corsair quality across the board.
This time around it is all about size. With TWINX sets usually providing 2 sticks of 512MB giving 1GB in dual channel, or 2 sticks of 256 giving 512MB in dual channel. Now Corsair releases a matched set of two 1GB sticks for a full 2GB in a dual channel configuration. Corsair currently offers a few different 2GB sets, the XMS TWINX2048-4000PT is rated at DDR500, or 250MHz, and advertised to run those speeds with 3,4,4,8 timings. This is the one we will cover in this review. Check back soon for a look at the Corsair XMS TWINX2048-3500LLPRO.
Packaging:
Packaged just like any other set of
Corsair
XMS dual channel memory, the XMS TWINX2048-4000PT came in a re-closeable clamshell package. Complete with nothing except a quick picture guide to installing RAM in your system. What more could you ask for.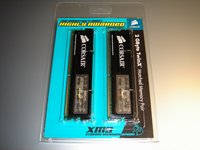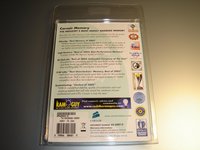 Being that Corsair produces some of the finest and legendary memory available, this review will go through the normal testing to verify all the claims, but beyond that to answer a few questions like what affect will having two 1GB sticks have on the memory controller aboard the processor (loss of bandwidth, overclockability, etc.) and probably of most concern, is there any added benefit to gaming by having 2GB of system memory.
Features:
• 2 x 1024 Megabytes of memory implemented using 64M x 8 DDR SDRAMs
• 100% tested at 250 MHz in high performance motherboards
• Benchmarked over multiple chipsets, processors, and motherboards
• Legendary Corsair reliability and service
• Lifetime warranty