The "Raidmax mission is to consistently offer best in class PC enclosures and accessories to our OEM clientele, as well as the fast growing retail market segment. Our constant effort to provide innovative designs, quality products, and excellent customer service is what sets Raidtronics apart from our competitors. At Raidmax, we will not only work hard to earn your business, our goal is to always meet or exceed your expectations." This quote was taken from the
Raidmax
website. Today we are going to see if one of their new CPU coolers stands up to these expectations. On the chopping block we have the Glacier, a large heatpipe cooler with the option of using dual 120mm fans.
First Impression:
The cooler arrived in a large box, well large for CPU coolers anyway. As you can see from the pictures they tried to disguise it as a pair of jeans, but it's hard to hide the super sized 120mm heatsink inside.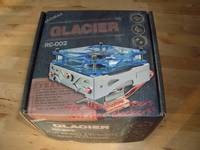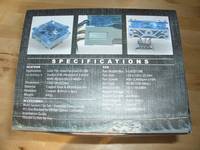 The inside of the box was just as interesting as the outside. The first thing you see here is a crystal blue 120mm fan, but it's the monster lurking underneath that really caught my attention. The image on the right shows the massive heatsink in all of its 640grams of copper and aluminum glory.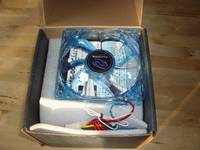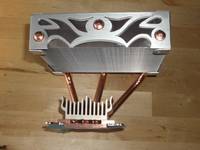 Features:
• 3 embedded copper heatpipes
• Copper base and aluminum fins
• Multi-socket supports Intel LGA775, Intel Socket 478, and AMD K8
• Elegant aluminum fan cover
• Dual 120mm fan system (optional)
Specifications:
• Application: Intel P4 LGA775 3.8GHz, Intel P4 478 up to 3.8GHz, AMD Athlon 64/Athlon 64FX
• Dimension: 134x120x35mm
• Material: Copper Base, Aluminum Upper
• Heatpipe: Copper ?8mmx3pcs
• Weight: 640grams
• Fan Size: 120x120x25mm
• Fan Speed: 800-2400rpm±10%
• Air Flow: 80.98CFM
• Noise Level: 17.6-39.0 dBA
• Rated Voltage: 12V
• Rated Current: 0.3A
• Input Power: 3.6W
• Bering Type: Single ball sleeve combo
• MTBF: 40,000 @ 25°C 65% R.H.