I am on my fourth USB Flash drive. Each and every one of the four had something that just wasn't quite right or could have been improved upon. They are either too thick, too cheap feeling, slow, error prone, or has some gimmick that just doesn't work out very well. This time
OCZ
steps up to the plate. They are known for industry leading overclocking RAM, some of the best power supplies on the market, and overall well engineered products targeted at folks who want the extreme (or just the best). Does the Rally Drive come closer to the perfect thumb drive? Time to find out.
OCZ
sent over one of their new line of USB Flash drives, a 512Mb USB 2.0 Rally Drive. Standard security clamshell retail packaging surrounds the Rally Drive, a split ring, a neck lanyard with breakaway release, and a 2 foot silver USB extension cable. You will notice the lack of the normal mini CD that most thumb drives seem to be packaged with. OCZ does not give you any kind of security encoding software, drivers, or fancy formatting routines.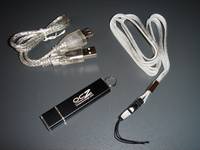 The Rally is wrapped in a rectangular, black anodized aluminum tube and backed by a small clear plastic end piece that doubles as the keyring/lanyard loop and the blue in-use LED. The business end is covered with a matching aluminum cover and flat clear plastic end piece. The whole drive with cap in place measures in at just a touch over 2 ½" long, 5/8" wide, and only ¼" thick.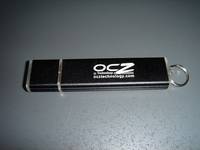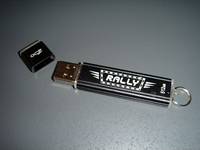 My first impressions of the Rally drive were very good, it feels solid in your hand, its cold hard metal not plastic, the finish is top notch, and even after a week in my pocket with normal assorted pocket items, the black anodizing still looks new. I had heard that some people were having trouble with the cap being too loose and falling off, making it easy to lose. The cap on my Rally is firmly held in place; I have no fear of it inadvertently falling off.
All of the other flash drives I have had were too fat to go into the front USB ports of my work machine (my
Corsair Voyager
would work only due to its soft cover, but it had to be forced). This Compaq computer has almost no room between the two ports and they are also recessed. The thin profile of the OCZ Rally had no issue at all; it is no fatter than a standard molded USB cable end. Even at this point, I can say I am impressed and I have not even dealt with moving data.
Specifications (taken from the OCZ website):
• High Speed USB 2.0 Certified
• True Plug and Play
• Dual Channel Technology
• Available in 512MB, 1GB, and 2GB capacities
• Dimensions: 2 5/8"(L) x 5/8"(W)
• Aluminum Chassis
• Blue LED Status Light
• Lifetime Warranty
• Blazing Speed:
&nbsp&nbsp&nbsp• 512MB - Up to 28MB/s (read), 15MB/s (write)
&nbsp&nbsp&nbsp• 1GB - Up to 25MB/s (read), 17MB/s (write)
&nbsp&nbsp&nbsp• 2GB - Up to 23MB/s (read), 17MB/s (write)