1024MB OCZ EL DDR PC3200 Dual Channel Gold - Page 1 of 3

Memory is arguably the most important and most scrutinized component in all high end computers. While computer enthusiasts search for low latency and high quality components, one type of chip comes to mind... Winbond BH5. BH5 memory is known by enthusiasts and gamers for its excellent performance and competitive pricing, which brings us to some of OCZ's memory modules... The 1024MB EL DDR PC-3200 Dual Channel Gold kit, which utilizes the Winbond BH5 chip.

Company profile (taken from OCZ website):

"Entering the memory market in August 2000, OCZ Technology was built around the determination to manufacture the best high speed DDR and RDRAM. OCZ was founded by enthusiasts, for enthusiasts, and our commitment to the end-user has not digressed." They then go on to say, "At OCZ we have one primary goal, and it is to make sure that every customer is 110% satisfied. Every employee at OCZ is dedicated to accomplishing this goal. Our engineers are constantly developing the fastest and best performing products."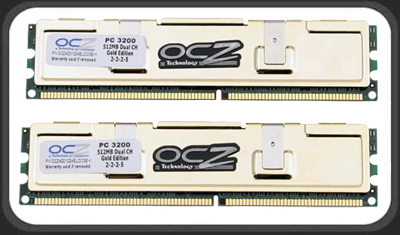 First impression:

The 1GB (2 x 512MB) kit arrived in an average plastic clamshell package with the OCZ orange background. As you can see from the picture below the clamshell package doesn't do a great job of holding things in one place, then again everything was intact and in working order when it arrived.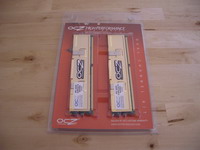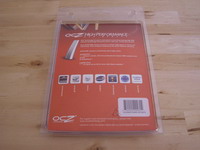 OCZ wasn't kidding when they used the word gold to describe this memory. As you can see the memory sticks are encased in a reflective gold layered copper heatspreader. Also shown is the OCZ logo appearing in the center of each module on both the front and back sides.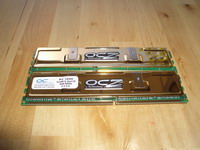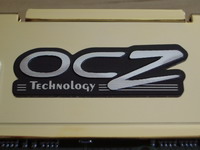 Next we take a look at the double sided circuit board. Shown in the image below is a side shot of the memory. I did attempt to remove the heatspreaders for photographs but had no luck with the oversized clips.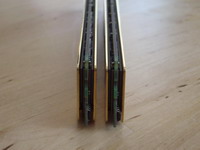 Please read on to the next page for more... Next




Page 1 | Page 2 | Page 3 | Home | Forum | Review Index | Page Views: