I-Rocks IR-7220 Optical Mouse - Page 1 of 1

I-Rocks is dedicated to providing quality, service, and competitive pricing to customers while maintaining a safe and environmentally sound workplace, upholding I-Rocks reputation as a responsible corporate citizen. I-Rocks has been manufacturing computer peripherals for 13 years. With offices in Taiwan an on mainland China, they are dedicated to the development and innovation of both products and services to customers worldwide. That little bit of introductory information is paraphrased from their web site, and provides some background on the manufacturer of the item being reviewed.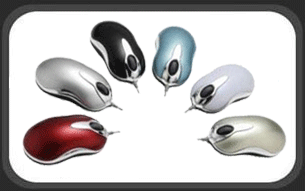 Today we look at the I-Rocks IR-7220 Cross-Direction Optical Mouse, otherwise known as the Beetle. I-Rocks has a fairly extensive line up of input devices, and this mouse isn't the first product of theirs to land on our test bench. A few other optical mice were reviewed here, and a few keyboards were reviewed here and here.

The following technical data for the I-Rocks IR-7220 was taken from the PCUSA Corporation website...

Features:

• Cross-direction Scrolling. Simply scroll horizontally and vertically to browse.
• Elegant design and delicate coloration makes a unique piece of your stylish computer.
• Plug & Play simplicity
• Ergonomic contour for comfortable use
• Optical functionality accurate on almost any surface

Specifications:

• 800 dpi resolution
• Interface: Combo (USB+PS/2)
• Dimension: 110mm × 58mm × 37mm
• Compatible with window 98/SE or later version

First Look:

The IR-7220 is packaged in a clear plastic bubble shell as shown below.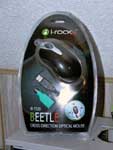 Included with the I-Rocks beetle are a 2 page manual, a USB/PS2 adaptor, and an 8cm Installation CD. It would seem that I-Rocks listened to the remarks made in this previous review and ditched the floppy disk containing drivers.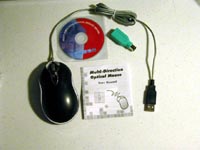 The I-Rocks Beetle is an attractive wired optical mouse. As shown in the below left image, it has a black shell with chrome trim, and I find it rather Stylish. If black isn't your color, you can choose from any of the others shown in the promotional image at the beginning of the review. Being an Optical mouse there is obviously no ball to collect lint, as shown in the the below right image.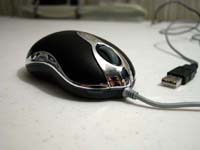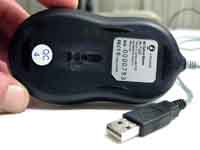 Installation:

Installation is a simple affair, just plug the mouse into a USB port, or use the PS2 adaptor, then plug that into your computer. Boot the system and insert the installation CD (Windows XP, 2000, ME & 98SE should all recognize the mouse on boot up). The software is very basic, allowing you to control the lines scrolled per wheel "click", as shown in the below left image. A Zoom function for the wheel "button" is shown in the below right image.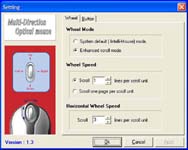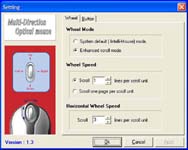 Operation:

The I-Rocks Beetle is a small mouse and I found its size to be the one negative factor during use. But, this is a great little mouse that would be fantastic to keep with your notebook for traveling, or for anyone with smaller hands to use on a regular basis. Below is a size comparison of the I-Rocks IR- 7220 Beetle (on the right), Logitech Cordless Click Optical (in the middle), and the Logitech MX700 Cordless Optical mouse (on the left).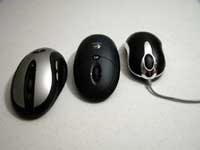 The I-Rocks Beetle is an 800 dpi Optical mouse with "Cross" direction scrolling. This means less effort on your part. The wheel is capable of scrolling both up/down and side to side. That can be a big benefit when surfing the web, working on spread sheets or any other application that won't fit on your screen. This proved to be useful on a smaller monitor while working on a large Excel spread sheet.

Conclusion:

The I-Rocks IR-7220 Beetle is quite responsive. Light weight and very comfortable to use, it should be a "must have" item for anybody with small hands that find some larger mice cumbersome.

PriceGrabber and the PCUSA Corporation "Where to Buy" list do not provide many locations to purchase the I-Rocks IR-7220 Beetle Mouse, and I could only find it at Tiger Direct for $14.99.

I would rate the I-Rocks IR-7220 Cross-Direction Optical Mouse a 4 out of 5 stars... "Recommended". Its diminutive size is the only reason I don't give it a higher rating. (OK, it's not cordless either).

Final Rating (4 out of 5 stars):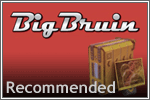 Pros:

• 800 dpi
• Responsive
• Stylish
• Well priced
• Good construction

Cons:

• Too small for large hands

Special thanks to PCUSA Corporation for providing the I-Rocks IR-7220 Optical Mouse to BigBruin.com for review!

Please drop by the BigBruin.com forum and feel free to discuss this review.

Page 1 | Home | Forum | Review Index | Page Views: