Arctic Cooling Freezer 64 CPU Cooler - Page 1 of 3

Cooling remains one of the main performance obstacles in modern computer systems, and along with cooling, is the related obstacle of noise. One of the goals of a manufacturer is to make a cooler that generates low temperatures with very little noise. One such company is Arctic Cooling. Arctic Cooling has introduced a new line of "Freezer" CPU coolers. There are three versions of the Freezer; Freezer 4 for the Celeron and Pentium 4 Socket 478, Freezer 7 for Pentium 4 Socket 775, and Freezer 64 for AMD Athlon 64 processors. I will be taking a look at the Freezer 64 to see if it can live up to its name.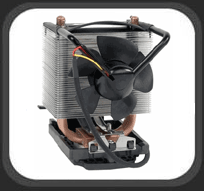 Specifications (taken from the Arctic Cooling website):

• All AMD Sempron (Socket 754)
• AMD Athlon 64 up to 5000+
• AMD Athlon 64 up to FX-59
• AMD Opteron
• Heat Sink: 92 x 72 x 120 mm
• Fan: 77 x 77 x 42 mm
• Overall Dimensions: 92 x 114 x 120 mm
• Rated Fan Speed: 2200 RPM
• Power Consumption: 0.13 Amp.
• Air Flow: 32 CFM / 55 m3/h
• Weight: 460 g
• Noise Level: 1.0 Sone
• Thermal Resistance: 0.20°C/Watt
• Low Weight
• In the high performance range of coolers, this cooler count as featherweights with less than 500 gr which avoids mainboard socket problems.
• Easy Installation
• The cooler is to install without any tools within seconds.
• Long Lifetime

• Extremely Quiet: The low speed 80 mm fan reduces the noise level to a minimum. The patented fan holder is able to practically eliminate the typical buzzing sound of 80mm fans.

• Powerful Cooling: The Heat Pipes with expanded diameter are able to transfer heat up to 200 Watt. The heat exchanger is built of 40 fins and consists of a surface area of over 5000 cm2 and allows for resistance free energy transfer to air.

Freezer 64 Basics:

The Freezer comes packaged in a sturdy black box with a picture of the cooler on it. Nothing too exciting about the packaging, and when you open the box you find the cooler is sitting in a plastic base with a plastic top. While the plastic is pretty thin, it's more than sufficient to keep the cooler from moving around and getting damaged during shipping. In the second picture, you can see the only included accessories; a tube of Arctic Cooling MX-1 thermal paste, and a small AC case badge... another one for my collection.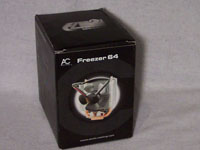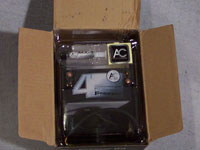 Looking at the Freezer from the side you can see the (40) aluminum fins that are used to transfer heat away from the heat pipes. Also, you can see the power connector for the Freezer, which has been nicely wrapped with a cloth sleeve.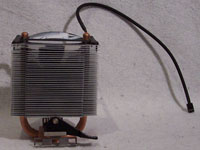 Please read on to the next page for more... Next

Page 1 | Page 2 | Page 3 | Home | Forum | Review Index | Page Views: