Geeks.com Dell Axim PDA Bundle - Page 1 of 4

Many traditional computer manufacturers have been branching out over the past few years to take advantage of the growing markets in other areas of personal electronics. One of these manufacturers is Dell, who has grown their business significantly by offering products such as televisions, portable digital audio devices, and personal digital assistants (PDAs). PDAs in particular have become big business, as many people find that a notebook computer is more than they need while away from the office, but the features and compact size of an item such as the Dell Axim X5 helps keep them up to date and productive.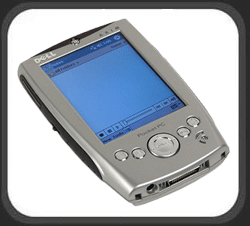 The Axim X5 PDA will be covered in this review, and many may be asking why. The X5 is roughly two years old, and Dell's product line has evolved up to model number X50v at this point. Although the new models offer many enhancements over the X5, the specifications are still quite respectable and the bundle currently being offered by Geeks.com makes the X5 well worth consideration.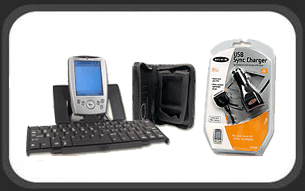 Geeks.com is offering a brand new, 400 MHz Dell Axim X5 PDA bundled with a Belkin executive zippered case, a Dell foldable keyboard, and a Belkin USB rapid sync charger for a price of $179. For those with an entry level PDA in their budget, this bundle offers a PDA that may be more powerful and feature rich than an entry level item, and throws in a handful of extras to sweeten the deal even further. We'll take a look at everything included and see if Geeks.com has a winner on their hands with this bundle.

PDA Features:

• Intel XScale 400 MHz processor
• 64 MB RAM
• 48 MB FlashROM
• Stylus stores in side of unit
• Microsoft Pocket PC 2002 OS
• 240 x 320 3.5-inch 16-bit color touch sensitive
• transflective LCD
• Integrated AC '97 Audio codec
• Integrated microphone and speaker
• Stereo headphone jack
• 1440 mAh rechargeable battery
• Controls:
&nbsp&nbsp&nbsp• Navigation button
&nbsp&nbsp&nbsp• Scroll Dial - Up, Down, Action
&nbsp&nbsp&nbsp• 4 Program Buttons: Calendar, Contacts, Inbox, Home
&nbsp&nbsp&nbsp• Voice Record Button
&nbsp&nbsp&nbsp• Reset Button
&nbsp&nbsp&nbsp• Backlit Power Button
• Expansion Slots:
&nbsp&nbsp&nbsp• One (1) CompactFlash Type II Card Slot (3.3v)
&nbsp&nbsp&nbsp• One (1) Secure Digital/MMC Card Slot (3.3V)

Included Software:

• Microsoft Pocket PC 2002
• Calculator
• Calendar
• Contacts
• Inbox
• Internet Explorer
• Pocket Excel
• Pocket Word • Windows Media Player

The Basics:

The bundle of goodies, including the PDA, ships in the plain cardboard packaging shown below. The same basic presentation as you expect from purchases made directly from Dell. All items are packaged in smaller, separate boxes within the larger box and everything should make it from Geeks.com to you without a problem with even some of the more abusive delivery men.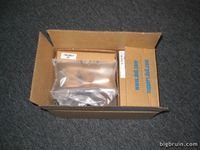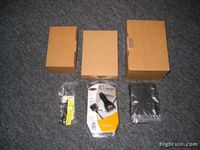 The largest box shown in the above right image contains the Axim X5 PDA and all of the other "base" accessories, as shown below. In addition to the extra goodies that Geeks.com have thrown in to make this bundle an excellent deal, the PDA includes the wall charger, a carrying case, 1440 mAh Lithium Ion battery, backup (watch style) battery, and an extensive collection of documentation.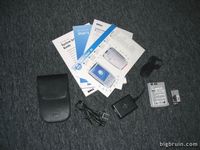 In addition to these items, the USB cradle for charging and synchronizing is also included in this base scope of supply. What is not included is a CD of any drivers or software. There are two specific applications that may be wanted, and there is merely a yellow slip of paper included that provides instructions on where to get the Microsoft ActiveSync Software and drivers for the Dell foldable keyboard. The two links provide here are what the yellow slip suggests, so perhaps others can save the hassle of retyping the URLs.

Please read on to the next page for more... Next

Page 1 | Page 2 | Page 3 | Page 4 | Home | Forum | Review Index | Page Views: