Zalman ZM-RS6F 5.1 Stereo Headphones - Page 1 of 1

Zalman is a Korean company that is best known for its full line of "noise prevention products and computers", that consists mostly of cpu, vga, and case cooling items. With the release of the Zalman ZM-RS6F 5.1 channel stereo headphones, gaming and movie watching in private can be much better than just left and right, and there is now no reason to hear with "just two ears" when using headphones.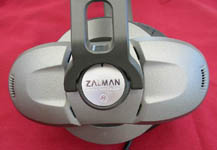 Fit and Finish:

Unlike many headphones on the market, these Zalman headphones seem to be made for LAN parties everywhere. Very durable and tough. Sporting a thick headband, and nice comfortable pads, there will be none of the usual fatigue common with cheap headphones. I had these on for many hours at a time and never got sore ears. The pads are easily removed by twisting for cleaning or replacement.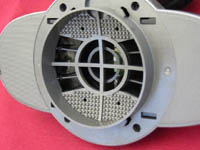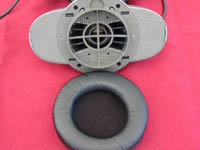 These are also one of the nicest looking things you can strap on your head. Being able to stuff 3 drivers in each side and make it look acceptable is no easy feat. The black and metallic gray will look good with any modded machine. They resemble some of the black and silver products available from Logitech. With an almost 10 foot cord, getting back a little from the action is no problem. When folded up, like originally stored in the package, they make their own stand, almost like they are displaying themselves.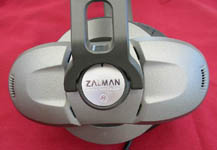 Features and Specifications from the Zalman website: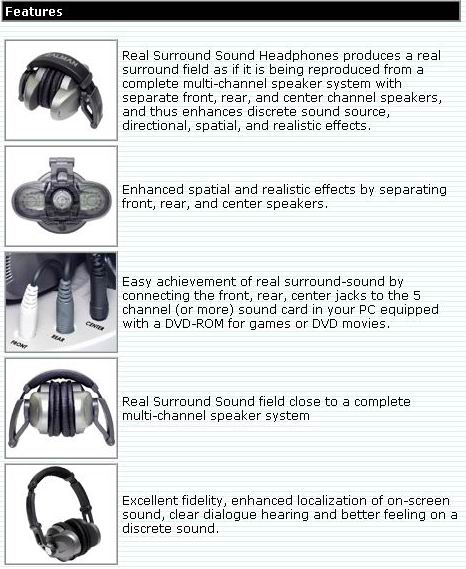 Sound Quality:

First thing off the bat, you may notice the low frequency spec of 50Hz. This would tend to tell us that the bass will be lacking when listening to the ZM-RS6F headphones. To some point it is limited. However, I have never listened to a pair of headphones that could sound so different connected to different sources.

PC (A7N8X Deluxe with onboard Soundstorm Audio):

When listening to MP3's, the sound quality was acceptable, but sounded a bit hollow. The bass was good, and the highs were very crisp. I'm not sure quite why this happened, but it also sounded the same when listening to a CD.

Next sound test on the PC was DVD movie watching. I decided to use a modern movie with a lot of explosions, planes flying by, and gunfire. I chose the initial battle scene, the Dec 7th morning Japanese bombing run of Pearl Harbor. All I can say is "Wow", with a complete Dolby Digital 5.1 channel input to these headphones, the localization, front, back, left, right was incredible. The hollow sound was almost gone, it was full, rich and very dramatic. When the action died down, and the movie went back to dialog, there was a bit of hollowness again. It sounded just a bit like the people were talking in a big tube.

The final test I did on the PC was a couple of death matches in Unreal Tournament 2003. I had the audio in UT2003 set to hardware acceleration. This is where these headphones really caught my attention. Very cool effects, you could hear where the shots were coming from and react much better than with simple stereo headphones. There was no indication of any hollowness in gaming.

Home Theater / Game Console:

After a bit of confusion in how to hook these up to a home theater, I went back to the instruction manual that comes with the headphones and is also available on the Zalman website...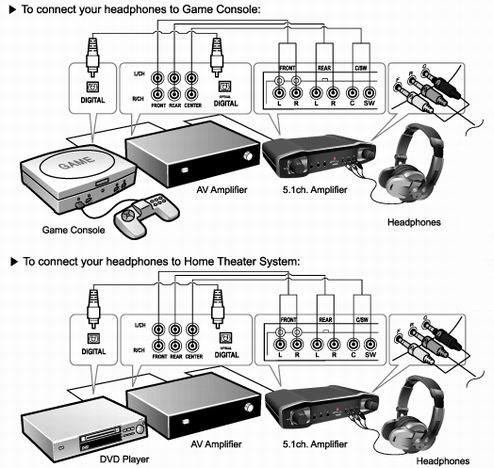 It seems like you need a separate 5.1 channel amp, a device not everyone is going to have. It is nice that Zalman included well drawn diagrams, but I did not have the necessary equipment to test these headphones with either a home theater setup or a console game. I imagine the same results would hold true as with the PC sound.

Conclusion:

These headphones excel in a Dolby Digital format. If they are used in a regular stereo format, either hooking up just the left/right channels, the back channels or the front/sub channel, sound will not be up to par. When all channels are driven like they were designed to be, the localization, separation, and quality are very good. Not to say they can't be improved upon. The driver quality seems to be just above par. Anyone who is used to very high end headphones, will be disappointed. If you usually scrimp on your headphone purchases, these will sound like heaven.

Available online from numerous outlets, two of the better deals on the ZM-RS6F headphones can be found at Jab-tech ($47.95) and Xoxide ($49.99).

Gamers, lan party fanatics, and PC freaks will love these headphones, they may be the only headphones currently on the market that can improve you frag scores!

With a great way to keep the neighbors happy, I give these headphones a 4 out of 5!!!

Final Rating (4 out of 5 stars):






Pros:

• The only way to listen to Dolby Digital sound in private
• Very comfortable
• Tough
• Killer good looks
• Easy to store

Cons:

• Can sound hollow when listening to stereo sources

Special thanks to Zalman for providing the ZM-RS6F 5.1 Stereo Headphones to Bigbruin.com for review!

Please drop by the BigBruin.Com forum and feel free to discuss this review.

Page 1 | Home | Forum | Review Index | Page Views: