ATake Laser LED - Page 1 of 1

It seems everybody is trying to add a little extra flash to their case. This is usually done by adding cold cathode light tubes, and fans with LEDs. These tend to light up the entire case very well. Wisetech's ATake brand of Laser LED lights help you achieve a unique look by lighting up only a section, or putting a spotlight on a specific component, instead of lighting up the entire case. Wisetech is the US distributor for ATake products, and sent me one of their blue Laser LED lights to take a look at.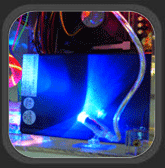 Specifications (taken from the Wisetech website):

• High brightness LED.
• Focal Beam Magnifier with removable lens.
• Adjustable translucent housing.
• Swivel 360° horizontally and 180° vertically.
• Low heat output.
• 200,000 Hour Life (22 years)
• Waterproof, Shockproof
• Additional Female Molex Power Connector
• Voltage Range 10-14 Volts D.C
• Draw: Less than 26mA@12volts
• Available in the following colors: White, Green, Red, Blue, UV and Tri LED

Packaging:

This comes in a tiny plastic blister package. It protects the unit in shipping, and provides all the information you need to know about the unit.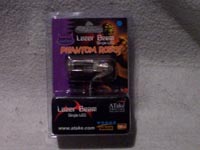 Installation:

The Laser LED is housed in a stylish casing along with the screws to mount it inside the case. The casing of the Laser LED also has a self-adhesive backing, which allows you to mount it anywhere you want.

As you can see, there isn't much to the installation of the laser Beam LED. Other than figuring out where to mount it, there are really only two other steps. Placing the double sided foam tape on the base of the unit, and plugging in the Molex connector.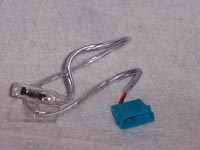 The first thing you will want to do is plug the unit into a free Molex connection. This is the only disappointing feature of the unit. It does not provide any pass-through. You will be using a Molex connector, and won't be able to go any further. If you were to install multiple units in your box, you will lose a Molex connector for each LED! A pass-through Molex connector would be very helpful to chain them together.

The installation location of the unit is very important. The location will be what either makes your lighting effect successful, or worthless. You want to make sure it is free of any obstacles (unless you are lighting those). Once you think you know where to place it, you can move the LED around quite a bit due to the ball-socket connection on the mounting stand. You can adjust it from 360 degrees around, to -30 degrees down, and 60 degrees up. This gives you plenty of options of where to place the LED for your desired effect. If you are not able to get the angle just right, you can always detach the LED from the stand, and mount just the LED.

Wisetech has included a little piece of foam tape to put onto the bottom of the laser LED. This allows you to mount the unit wherever you want. After you have decided where to put the LED, attach the foam tape and place it in the desired location. Becareful where you place it. Once the tape makes contact it does not come off very easily. In fact, it came off the unit, and not the case. So make sure you know exactly where you want it placed.

After you get through the simple installation, it's time to check it out and see if it's all worth it.

Here you can see the LED lit up, but not installed.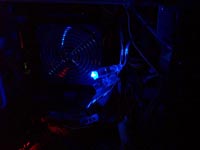 I installed the laser LED in an open 3.5" drive bay to put a spotlight on my Titan Siberia cooler.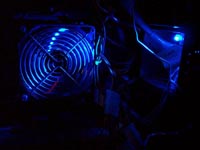 Here you can see how the laser LED lights operate. It doesn't flood the case with light, it just illuminates where it is pointing.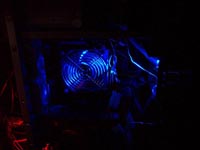 Conclusion:

I have been somewhat disappointed in how cold cathode light tubes ended up looking, and was looking forward to checking out the Laser LEDs. CCFLs flood the case with light, lighting up everything, and the light fades very quickly. In a full tower case, I need to place several CCFLs to light up the areas I want. You can't use them to pinpoint a specific area. The Laser LEDs take care of that! If you were to use several Laser LEDs, you can not only light up your entire case, but you can achieve a really unique look.

Wisetech has a suggested retail price of $2.99 on the ATake Laser LED lights, which is definitely a good price for this type of product. But... Don't look for them at any stores just yet. They are due to be released in January 2005, so you have a few weeks to get ready.

Mod gear is very hard to rate as much of it is subjective to how you install it. I would definitely recommend the Laser LEDs because of their ease of use, and how great they end up looking once installed.

Pros:

• Inexpensive
• Easy installation
• Bright spotlight

Cons:

• No Molex pass-through connection

Special thanks to Wisetech for providing the Laser LED to BigBruin.Com for review!

Please drop by the BigBruin.Com Forum and feel free to discuss this review.

Page 1 | Home | Forum | Review Index | Page Views: