Wise Tech Data Flash Cable Pro and Full Activity Flash Cable - Page 1 of 1

One of the most widely used cable types for external devices is also one of the newest. USB devices first appeared in the late 90's, about the time of Windows 98SE. This was a revolutionary type of cable as it was plug-n-play, meaning you plugged in a cable and Windows would know to load the drivers. Once the drivers were installed, you could plug the device in anytime you wanted and it would work. Today, USB is the most widely used cable for external devices. Unfortunately in today's market of computer mods, cables are usually ignored. Wise Tech has announced some new cables that hope to change that. The cables I am talking about are the Data Flash Cable Pro and the Full Activity Flash Cable.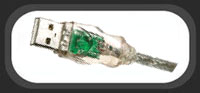 Here is Wise Tech's August 2004 announcement:

Wisetech begins distribution of an exciting line of computer cables featuring USB2 and IEEE1354 models that not only have lighted LED's on the ends, but the LED and the cable flash and pulsate to indicate data is transmitting correctly. The perfect cable for modders, gamers, and everyone who wants to be sure data is transferring ok.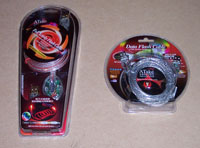 These cables are available for USB 1.1 and 2.0, Firewire, and PS/2 connectors in a variety of colors such as blue, green, red, and of course white.

The Data Flash Cables are a round braided cable with standard silver connectors that light up at the connectors.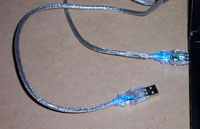 The Full Activity Flash Cable is a flat cable that also lights up at the connectors. The biggest difference in the two products is that there is also an EL wire that lights up as well in the Full Activity Cable. On one end there is an EL wire control module, this converts the power from the USB port, to be compatible with the EL wire, and to control the flash of the EL wire. The Full Activity Flash Cable also contains 24k gold connectors.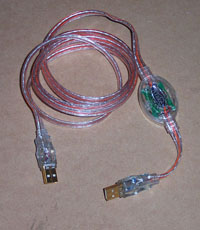 The images below show the two cables in action. The below left image is the blue Data Flash Cable, and the below right image is the red Full Activity Flash Cable...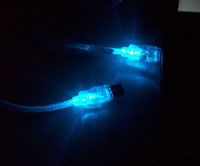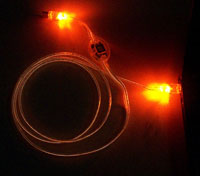 Conclusion:

Either one of these sets of cable is a great addition to your collection of USB devices. It's especially helpful to keep various devices identified in order to unplug from a hub, without having to follow a cable around your desk/room. Not to mention that if you route them well, you'll have a very colorful display. Isn't that one of the purposes of modding your computer?

It's worth noting that when routing cables you have to be careful not to get kinks in them, as that can cause transmission errors. I found these cables to be very sturdy and they both bent very easily. Personally, I preferred the Full Activity Flash Cable as it was flatter and easier to route, not to mention it laid nicely around my desk.

Sadly, there was a problem with the cables. They were supposed to flash when data was being transmitted across them. I was unable to get them to flash as advertised. Perhaps this is because I had to use an adapter to get them to connect to a device, as all of my devices are either the Mini A, or the B plug.

I give the Wise Tech Data Flash Cable Pro and Full Activity Flash Cable a rating of 4 out of 5 Stars... "Recommended"!

Final Rating (4 out of 5 stars):





Pros:

• Easily routed around desk
• Help keep cables identified by purpose
• Add additional flare to your moded computer

Cons:

• Only three colors available
• Unable to get cables to 'flash'

Special thanks to Wise Tech for providing the Data Flash Cable Pro and Full Activity Flash Cable to BigBruin.Com for review!

Please drop by the BigBruin.Com forum and feel free to discuss this review!

Home | Forum | Review Index | Page Views: