Ultra Products Xconnect 500W PSU - Page 1 of 3

Ultra Products is a relatively new name on the computer component market, but has jumped right into the scene with some interesting and innovative products. From lighting modifications, to MP3 players, to DDR memory, they seem to have a little bit of everything in their expanding line-up of products. Perhaps their most innovative product is the item lined up for this review, the Ultra Products Xconnect 500 Watt ATX Power Supply.

We've reviewed plenty of power supplies here, and in general there isn't much to get excited about... But that is about to change!

The Basics:

The Xconnect 500W is sold in the highly detailed retail packaging shown below. Just about every square inch of the outside surface is covered in some sort of technical data, feature description, or other tidbit of information to inform a would-be purchaser.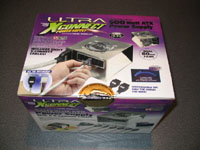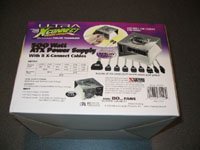 The contents of the box are featured in the below left image, and include; a well padded PSU, a User's Manual, and another box which contains all of the power cables. That's right, I haven't mentioned it yet, but the Xconnect is a modular design, which means the octopus of wires we are all used to is no longer...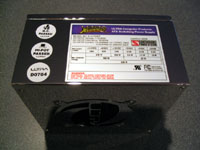 The above right image provides a glimpse of the Xconnect's specifications, but for those who can't quite read them, they are also provided in the list below:

AC Input: 115V/230V 10A/6A 60/50Hz
DC Output:
• +3.3V – 28A
• +5V – 30A
• +12V – 34A
• -12V – 0.8A
• -5V – 0.3A
• +5VSB – 2A

Respectable numbers, although not the strongest I have seen. The +12V rail is fairly robust though, and should provide some solid power for systems with numerous drives and fans waiting for an ample 12V supply. In addition to the electrical specifications, Ultra also provides the following information about this power supply's features:

• High-Gloss Mirror Finish
• Modular Cable Connection System
• UV Reactive Shielded Cables
• Dual 80mm Fans
• Low Acoustic Noise
• Short Circuit Protection
• In-rush Current Protection
• Thermal Overload Protection

The packaging describes the finish as being "titanium", but it is most definitely a high-gloss mirror finish. The below left image shows the bottom of the PSU, and its 80mm intake fan with custom mirror finish fan grill and black mesh insert. The below right image shows the rear of the PSU, which features another 80mm fan, large power switch, voltage selection switch, and AC power socket. I like the custom fan grill, and feel it would complete the look by adding it to the exhaust fan, as well. So far, other than being highly stylizied, we're looking at features of any basic power supply. The other side is where it gets interesting...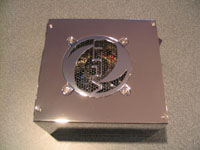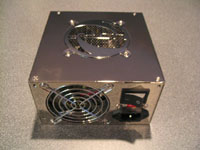 The images below detail the side opposite the power switch, which generally features a bundle of wires coming out of a small round hole on your typical power supply. On the Ultra Products Xconnect we have 7 small plastic caps and one larger plastic cap, all of which feature the Ultra logo. Removing these caps reveals five 4-pin power connectors, one 4-pin 12V P4 style power connector, one 6-pin auxillary power connector, and one 20-pin ATX power connector. These sockets might not make much sense right now, but shortly we will see the power cables that make this design so ingenious.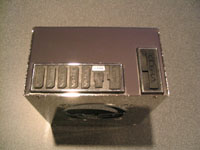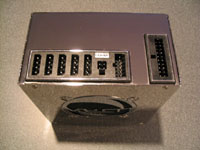 One last shot of the bare housing illustrates that the high-gloss mirror finish looks great, unless you handle it too much and smudge it with finger prints. Perhaps a pair of cotton gloves are in order, nothing fruity, just something like the guys who handle the Stanley Cup wear.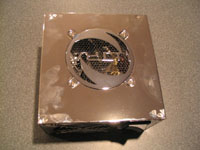 Please read on to the next page for more... Next

Page 1 | Page 2 | Page 3 | Home | Forum | Review Index | Page Views: