Ultra Dual Channel 1024MB (2x512MB) PC3200 DDR Memory - Page 1 of 2

With a company name like Ultra Products, you expect them to have top quality components. They have components that range from hard drive enclosures, cables, lights, cases, power supplies, and many other accessories. When it comes to RAM, many people only think of the biggest names in the industry. Names like Crucial, Kingston, Corsair, and Mushkin. At one time they all started out as virtual unknowns, until they proved they had quality products. Ultra Products is moving into the enthusiast market with their Dual Channel RAM available in DDR-333, DDR-400, DDR-466, and DDR-500, with sizes ranging from 512MB to 2GB. Today I am taking a look at their Dual Channel 1GB DDR-400 (a matched pair of low-latency DDR-400 512MB sticks).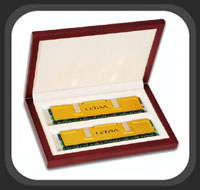 Specifications (as taken from the Ultra Products website):

• Memory Size: 2 x 512MB
• Memory Speed: 400MHz PC3200
• Memory CAS Latency: 2-3-2-5
• Memory Type: Dual Channel DDR
• Pins: 184
• Voltage: 2.6V

Additional Specifications:

• Our pledge to you that all Ultra Overclocking Memory products sold will be free from defects in materials and workmanship.
• Compatibility. Reliability. Speed. Ultra Overclocking Memory can offer all three because it has been rigorously tested to comply with our discriminating standards. Exhaustive triple testing ensures a quality product.
• No guessing games, no surprises—Ultra Overclocking Memory offers 100% compatibility, guaranteed.
• All Ultra Dual Channel DDR Memory modules ship in a Beautifully Crated Mahogany Box.
• All Ultra overclocking memory modules feature integrated aluminum heat spreaders for optimum thermal dispersion and carry a lifetime limited warranty.

The published specifications list this as CAS Latency of 2, RAS to CAS Delay (tRCD) of 3, Row Precharge (tRP) of 2, and Active to Precharge Delay (tRAS) of 5.

These published specifications look great, now let's see how they hold up in testing.

Physical Features:

Ultra Products packages their ram in two different style of packages. A blister pack, and a mahogany wood box for their top of the line RAM.

The wood box is a welcome change from the usual blister pack, or white box that most RAM comes in. Does it really provide anything for the quality of the RAM? No. But it's some great packaging, along with a good place to store any extra RAM you might have laying around.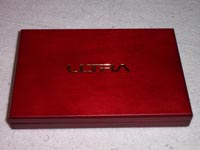 Opening the box you get your first glimpse of the RAM. One side of the RAM heat spreader shows the manufacturers name, while the other side has a holographic sticker that gives you model number, and a short list of the specifications. The PCB of the RAM is standard green, with a copper colored heat spreader.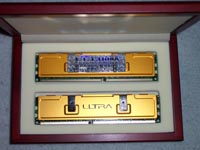 There is no room between the dual sided modules and the heat spreader, which should provide maximum heat transfer from the chips.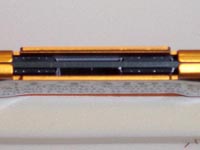 Installation:

The two 512MB modules were installed in the following system:

• AMD 64 3200+ processor
• MSI K8T Neo Motherboard
• Western Digital 200GB 8MB Cache
• PNY GeForce 5600 Ultra 128MB Ram
• Windows XP Professional with SP2

When I first installed the RAM, SPD identified it as 400MHz DDR at CAS 2.5, not CAS 2.0. To perform the testing, I adjusted the BIOS to match the advertised specifications, and was on my way.

Overclocking:

When you purchase "performance" RAM, overclocking is usually a major selling point. The published timings of 2/3/2/5 only carried up to 420MHz DDR, and from there adjustments were required to keep the system stable. At 440MHz DDR, the timings had to be relaxed to 2.5/3/3/8, and I was able to hit a maximum overclock of 450Mhz DDR with the same timings.

The top speed achieved, and the timings required to achieve them, don't quite live up to the high standard set by other low latency memory recently reviewed here at BigBruin.Com. Although tested on different systems, the Crucial Ballistix Low Latency PC3200 and the Corsair TwinX 1024 PC3200XL both climbed to 480MHz DDR, and were able to maintain tighter timings at this elevated speed. In comparison, the Ultra DDR can't be considered in the same class for true enthusiasts.

Please read on to the next page for more... Next

Page 1 | Page 2 | Home | Forum | Review Index | Page Views: