Transcend TV-Box USB 2.0 TV Tuner - Page 1 0f 3

With all of the products available to make your computer seem less like a desktop tool and more like a high end media center, one of the components that lacks the popularity you might expect is the TV tuner card. There are sound cards capable of 7.1 channel stereo, high powered speaker systems, AGP cards displaying on big screen monitors/televisions, and broadband internet for streaming media. But, what about one more entertainment goodie for your computer? The Transcend TV-Box USB 2.0 TV Tuner is an external TV tuner that will allow any couch potato with a computer to ditch the couch while still enjoying TV.

TV tuners aren't anything new, and even external devices such as this have been around for a few years. The feature of the Transcend TV-Box that got my attention right away was support for USB 2.0. I have previously been disappointed by the performance of a USB 1.1 tuner, and I am hoping the high speed interface of USB 2.0 makes a world of difference. A highly capable TV tuner in a compact USB 2.0 enclosure would be a perfect addition to a home theater pc, the typical desktop computer, and unlike a PCI based card, any laptop computer.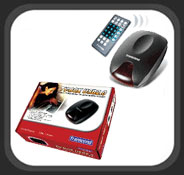 Features (as taken from the Transcend website):

• Video Input Resolution up to 720*480 at 30 fps for NTSC.
• Video Input Resolution up to 720*576 at 25 fps for PAL.
• Full TV Channels.
• USB 2.0 Supported, Plug and Play Compliant.
• S-Video, Composite Video input, stereo audio line in and TV RF input.
• IR Remote Control.
• Power Consumption from USB with no power adaptor required.
• Recording from TV or external video sources directly to hard drive.
• Real-time MPEG 1 or 2 compression, and VCD/DVD file format supported.
• Time-Shifting.
• Multi-Channel Preview.
• Pre-scheduled TV Recording.
• Desktop or Laptop with USB 2.0 interface.
• System memory 128 MB or above.
• Windows XP (recommended), Windows 2000.
• 2-year Warranty.

Specification:

• Size: 154mm x 84mm x 39mm (L x W x H)
• Operating Temperature: 0°C(32°F) to 45°C(113°F)
• Weight: 195g

System Requirements:

• Desktop or laptop with USB 2.0 interface
• CPU PIII 800 MHz for viewing; PIII 1 GHz for VCD recording; P4 1.7 GHz for DVD recording
• System memory 128 MB or above
• Windows XP (recommended), Windows 2000

The Transcend TV-Box USB 2.0 is sold in the retail packaging pictured in the images below. The front of the box (below left) provides a few features of the device, while the back of the box (below right) goes into much greater detail in several different languages.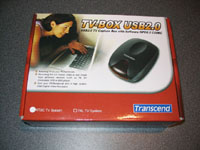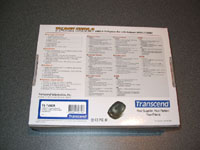 With the box opened up, the main items of interest are the TV tuner itself and the remote control unit. The below left image provides a first look at the TV tuner, which is a sleek black plastic device with a red lensed area housing a few status LEDs as well as allowing for the IR remote's signal to be received. The below right image shows the remote control which features all the buttons necessary to operate the TV and recording functions of the TV-Box. Both items are quite compact, with the tuner measuring roughly 5.5" x 3.25" x 1.5" inches and the remote being slightly longer than a credit card and not all that much thicker.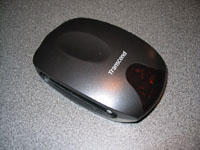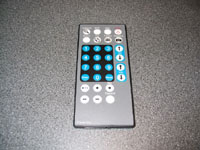 The remote control receives power via a slim watch style battery, and the tuner itself receives power via a USB cable. The below left image shows the side of the TV-Box with 3 connectors; 1/8" stereo jack output, USB jack for video/signal, and a DC power jack for use on USB. In addition there is a button for taking still image "snaps" that are saved to your hard drive. The below right image shows the rear of the device where the coaxial cable connection and A/V-in can be found.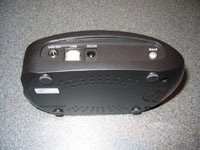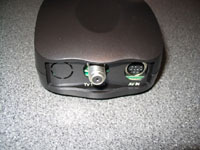 The below left image shows the various cables included with the TV-Box. From top to bottom you have an 1/8" stereo line, A/V adaptor, USB power adaptor, and USB signal cable. The A/V adaptor allows for the connection of s-video and composite audio/video sources, allowing even greater flexibility for capturing video. The below right image shows the installation cd and various literature included with the TV-Box, the most important of which is the thorough User's Manual. Not that the manual is necessary due to any issues with the device, but a well written, comprehensive manual can be hard to come by, and I appreciate the effort of creating one.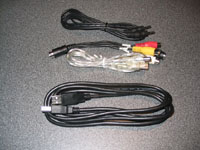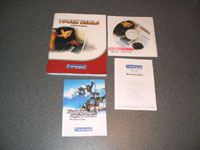 Please read on to the next page for more... Next

Page 1 | Page 2 | Page 3 | Home | Forum | Review Index | Page Views: