Thermaltake Xaser Damier V5000A Case - Page 1 of 1

Today we are taking a look at the Thermaltake XaserV Damier V5000A chassis. Thermaltake has embraced the idea that the plain beige, or even black, case is pretty much a thing of the past. For years now enthusiast have been taking out hack saws, Dremels, and anything else that can cut, bend, or in some form or another change the way their computer case looked. They have done this not only to add more fans for better air flow and heat control, but also to add lights, windows and other personalized touches to their once dreary computer case.

The problem has been that many computer users don't have the time, or maybe the skills required, to modify their case so they are stuck with whatever stock case they could buy. Those days are forever gone! Now within your grasp are computer cases that not only offer better cooling, but fancy windows, lights, and other gadgets to make even the most hardy case "modder" take notice. The V5000A is very definitely one of those cases!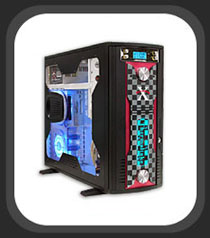 First, let's take a look at the advertised feature list:

• Elegant & Exquisite front panel design: front side : Damier stylish motif & 2 Smart Fan fan speed control knobs in front panel & flash EL lamp Rear side : Thermaltake aluminum back plate with 7 color flash LED.
• Retractable foot stands
• "X" type side panel window
• Side panel security lock & 3-way front panel lock
• Tt VIP Pack include: Damier series mouse pad, sticker, CD-ROM disc with screen saver and wallpapers.
• Fan: 90x90x25 mm, 1800rpm, 21dBA, in rear & side door
• Fan: 80x80x25 mm, 2050rpm, 21dBA, top & front

The images below show the solid packaging...






A look at the case, and all of the accessories listed above...






The top sports an exhaust fan, USB, Firewire and audio jacks. Up front is the fan speed controller...






A look at some of the internal wiring, as well as the tool-less drive rail system...






An overall view of the front, the back, and the handy, tool-less expansion slots...






WOW!! That's a lot of stuff inside that case. And let me tell you, this case is not light, so have a lifting buddy ready! They have came out with a Aluminum version of the case, which I'm sure is a lot lighter (and I'm sure a little noisier).

Installation:

Now that we see what this monster of a case looks like, let's start putting parts in it and see what happens.

Components:

• Tyan Dual Athlon MP Tiger motherboard
• 2x AMD Athlon MP 1800+
• 2x 512MB ECC DDR PC2100
• Tyan G9800 Pro-M
• 2x Maxtor ATA133 60GB HDD RAID0
• Silicon Image SIL-680A IDE RAID Controller
• IBM ATA100 60GB HDD
• Soundblaster Live X-Gamer 5.1
• 10/100/1000 PCI NIC
• USB 2.0 PCI Card
• BTC 8X DVD+/-RW
• BTC 48X CDRW
• PC Power & Cooling 510 ATX-Deluxe PSU

Now let me tell you, this system takes up a lot of room, uses lots of power, and produces lots of heat! To try and manage this beast before it was in an Antec SOHO file server tower case. While this case did a great job of holding all the parts, and keeping them relatively cool, it lacked much "pizzazz".

Fist things first... if the V5000A can't keep the system cool, then nothing else will really matter. So let's take a look at the stats on how well it did this job. All temperatures were taken at a room temperature of 25C, 15 minutes and a reboot between test. Motherboard Monitor 5 was used to read all temperatures.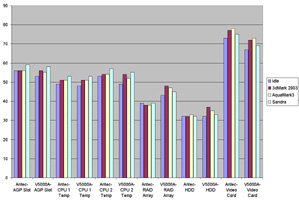 As we can see here, in every test the V5000A was a few degrees cooler than the Antec case. NICE! Good looks, and performance. One thing to note, all temperatures were taken with fan speeds on high. The noise from these fans was quiet enough for me, but for those of you who like really quiet systems then you will need to crank down the fan speeds, which from my quick testing only raised the system temperatures by about 1 - 2C.

Great! It passes the performance test, how about the looks test. Let's see what it looks like fully assembled.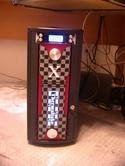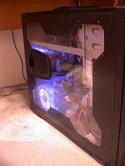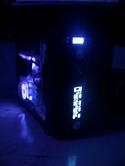 Conclusion:

First, sorry about a little blurry pictures; photography isn't my strongest suit. But as you can see, it looks pretty nice. Lot's of glowing stuff. So I would say, it passed the looks test as well.

Unfortunately one thing about this case is...it's TOO loaded. There are just too many wires running around this case, to and the lengths need some work too (some are too long, some are too small). While with a lot of effort you can get around this, it really is something to think about in such a cool looking case, with a window to show the insides. Also, the case is HEAVY; maybe too heavy. Such a good looking case is just dying to be shown off, but to do that your going to need a dolly. One thing to note, Thermaltake has come out with a Aluminum case and that's sure to be a LOT lighter.

A search of Price Grabber finds this case for sale at a few familiar outlets for right around $100 (US). Considering all that you get, and the quality of all the components, this price is on par with other cases with similar features. A few suggested sources:

• Newegg - $96
• mWave - $99
• Zip Zoom Fly - $116
• Space Center Systems - $143

Final Rating (4 out of 5 stars):






Pros:

• Great looking
• Solid cooling performance
• Well built
• Did I say great looking?
• Very roomy interior
• Quick and easy rail system for installing drives
• Built in fan controls
• I did mention the looks, right?

Cons:

• HEAVY! Bring your dolly
• A mess of wires inside to control all the goodies

Special thanks to Thermaltake for providing the XaserV Damier V5000A Chassis to BigBruin.Com for review!

Please drop by the BigBruin.Com forum and feel free to discuss this review.

Page 1 | Home | Forum | Review Index | Page Views: