Sunbeam Tech Specialty Thumb Screws - Page 1 of 1

Items to customize your computer system are available in all shapes and sizes, and Sunbeam Tech seems to offer something in every area that can be modified. When I say every area, I mean it, as they now offer not only cases, cooling, and lighting mods, but even modified hardware. With a fully tricked out case, why use standard screws, when Sunbeam Tech offers a few different styles of specialty thumb screws in a variety of colors.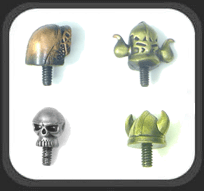 As shown in the image above, they offer screws in three metallic finishes shaped like an alien's head, a gladiator's helmet, a skull, and a Viking's helmet. Each style of screw is available in any of the finishes represented, offering quite a combination to choose from. Sunbeam Tech sent over a few sets of these screws for me to look at, but first let's see what their website has to say about their own product.

Features:

• 3-D effect
• Exotic embossed screwhead
• Strong and easy to use
• Work great for side panels as well as AGP and PCI Slots.

Finish:

• Tinny
• Bronzy
• Copper Red
• Other

Specification:

• Material: Zinc Alloy
• Screw thread: 3.3mm(OD) x 6mm(L)
• Screw head: 11mm(OD)x13mm(L)

And the Sunbeam Tech website provides the following blurb to describe this product... "Bold, fashionable and exotic embossed screwhead can give you very strong optic impact. All 3-D effect can better show its full, innovated design concept. Strong and easy to use. Good uses for side panels as well as AGP and PCI slots, etc."

The site intially also said "It can make your PC stable." Wow I thought, it can make my PC stable? I wasn't expecting that little bonus, but I hoped it was true. My P4 2.6C runs great at 3.0 GHz, but it is not quite stable at 3.2 GHz. I was hoping this upgrade would get me to that next level, but upon reading the initial version of this review, Sunbeam realized the mistake on their website and removed that sentence.

The images below show the front and back of the four bubble packages supplied for this review. I received the "tinny" colored gladiator's helmet and skull, copper red alien's head, and bronzy Viking's helmet. Each package includes 10 of the specialty thumb screws, which should be more than enough to dress up a single case. That would allow 4 to be used to hold on the case side panels, and 6 for use on AGP/PCI slots.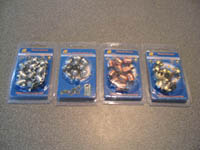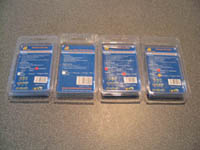 The image below shows a close up of the front and back of two packages to show the details included on the packaging. Each package shows of the product nicely, as well as listing the basic features, specifications, and description of the style/color enclosed.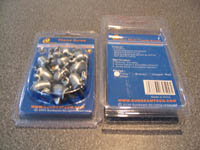 The image below shows one of each specialty thumb screw, showing that they are all roughly the same length and width. The images following this one provide a close up of each to emphasize the detail found on each.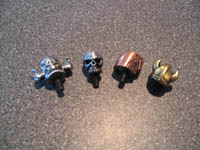 The below left image shows the tinny gladiator helmet, and the below right image shows the tinny skull. Each is quite detailed, and the skull design is particularly realistic and menacing.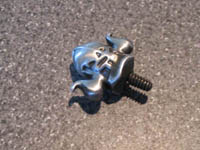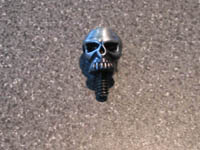 The below left image shows the copper red alien's head, and the below right image shows the bronzy Viking's helmet. The alien design is right out of Sigourney Weaver's nightmares, and is another impressive bit of miniature modeling.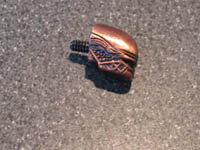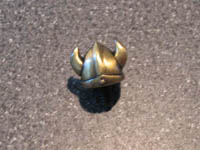 Installation / Testing:

Obviously installation is not that complicated, as we're talking about simple screws. The Viking and gladiator style screws are shaped like wing nuts, and are quite easy to install. But, the skull and alien shaped screws were more difficult to install than your typical thumbscrew for two different reasons. The skull is difficult to install due to its small diameter and extremely smooth surface. My fingers were a little sore from having to squeeze them so tightly in order to get them threaded all the way in. The alien screw is difficult because the screw is not centered on the mass of the alien, so you can not spin about what feels like the center of the object. You have to align the screw and concentrate while spinning it into the hole.

The images below show these two troublesome screws installed on a case's side panel.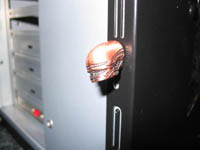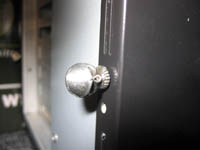 Neither issue was a particularly big deal, but if you are used to being able to install screws without looking, and with minimal effort, these will slow you down! The difficulty of installation did provide a bit of security though. My three year old "apprentice" is quite adept at installing / removing your typical thumb screws, but after a few faint gasps, she gave up and was unable to remove the skull.

Conclusion:

If you have a highly modified computer case, some specialty hardware may be just the thing to complete the look. With four styles and three finishes to choose from, one combination may just suit the theme of your case. The various metallic finishes are complimented by highly detailed designs, making these some good looking screws.

With a ten pack of standard thumb screws selling for about $1.50 (US), you may need to think twice before springing for a ten pack of these at $7.00 (US), or more. I didn't find them at many familiar places, but NCIX has them for $6.98, and a place called Kingston Computer Planet has them for $10.99. Not an outrageous amount, but the necessity all depends on your tastes and your budget.

Pros:

• Highly detailed
• Something different
• Even the smallest details in a system can now be custom
• Package includes enough for a complete system

Cons:

• Some are more difficult to install than typical thumb screws
• Did not improve stability!

Special thanks to Sunbeam Tech for providing the Specialty Thumb Screws to BigBruin.Com for review!

Please drop by the BigBruin.Com Forum and feel free to discuss this review.

Page 1 | Home | Forum | Review Index | Page Views: